Brad Pitt and Angelina Jolie with their prodigy of six children from 3 to 10 years old have surprisingly inspired Justin Bieber to play family – and his girlfriend Selena Gomez joined in!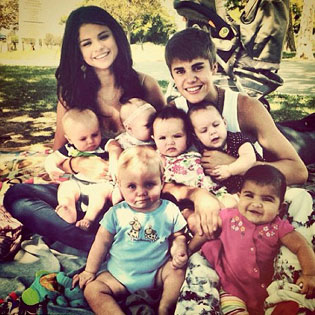 We all remember Bieber admitting to Women's Wear Daily not so long ago that he had the urge to become a father. "I want to see myself, like, married or start looking for a family," the teen singer gushed, adding that those are his plans for his twenties, but it is out of the question now. And it looks like he wasn't quipping.
His new photo posted on Instagram Tuesday shows a sunlit park, Justin Bieber and his girlfriend Selena Gomez as happy picnickers – surrounded by six charming children!
The eyebrow-raising picture bears Bieber's jocular caption "Brangelina 2.0 hahahahahaha."
It's not quite certain what Gomez thinks of setting up a family like that in future, but Bieber is wrapped up in his old love – a relationship that was officially announced in February at the Oscars. "She's amazing," he says of his 18-year-old flame.
The Baby singer didn't have enough of a family life – his mother Patti Malette brought him up mostly single-handed, having given birth to him when not yet out of her teens and having a hard time of it.
Source of the image: Dailymail.