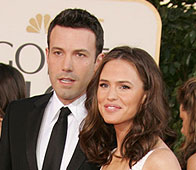 Recently Jennifer Garner gave birth to the second child – a beautiful baby-daughter. Her official representative announced it saying, "Jennifer Garner and Ben Affleck gave birth to a healthy baby girl." Garner announced her pregnancy in August. Jennifer and Ben's first child, Violet, is 3 years old. The only details available for now about the newborn is that she was born on Tuesday in Los Angeles.
For the past couple of weeks Garner took it easy in order to prepare for the childbirth and mainly stayed close to home taking care of herself and looking after Violet. A few days before the baby was born Jennifer was seen in Pacific Palisades with Violet and in Santa Monica with a friend.
Victor Garber, Garner's dear friend and former costar in the movie Alias (2001), said that Jennifer is a great mother, adding that she will have no troubles with this baby since it's her second child and she knows all the mommy duties by heart.
Photo of Jennifer Garner and Ben Affleck: amny.com.