…and she wasn't above waging some guerilla warfare to win her man! Jennifer Aniston seems sure she met the love of her life at 42 at the shoot of Wanderlust when her costar Justin Theroux stole her heart unintentionally. The 39-year-old actor had a live-in girlfriend Heidi Bivens with whom he had been in a 14-year-long relationship… But that didn't change a thing.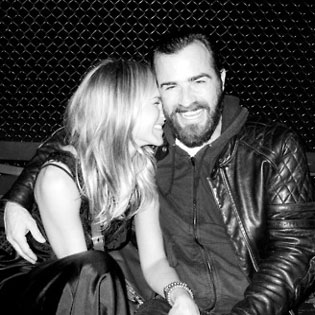 Us Weekly had it from several sources on the set that Jennifer Aniston was all set to get him – and as the shooting progressed, she lured him out to meet her secretly at the place she was staying at, a set-apart house on Lake Rabun in Georgia.
"It didn't matter that he was already with someone," a source who is in with Theroux commented. In March this year Theroux dropped his 35-year-old girlfriend, and a source spills that she never knew the reason behind the break-up until lately.
But now the Horrible Bosses star's high-on-emotion romance is out in the open – more so with two fresh black-and-white pics of the pair done by photographer Terry Richardson, 45, and made public on Wednesday. Aniston can be seen snugging up to Theroux on Thompson Street in SoHo, New York. Also tender is the second, after-dinner photograph, showing how much in love Aniston is.
Source of the image: Popcrunch.