Jennifer Lopez and Bradley Cooper were known to come together last month in New York for a dinner at Per Se. At the time it was said that the dinner had been arranged for discussing business matters – but it seems the two are having more than business on their minds.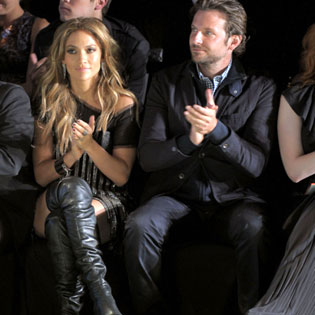 On Saturday in Los Angeles paparazzi caught Cooper, 37, with somebody who they were sure was J Lo, and the pictures they made bear some evidence to their being right.
PEOPLE followed up the hint and found a source who confirmed that Lopez, 42, and the Hangover star had had a date on Saturday.
Moreover, the source added, the two had kept up contact ever since their New York dinner. Lopez is rumored to enjoy her time with Cooper who is much fun; she is amused by his jokes and flattered by his obvious attention.
Another J Lo-close source also states that the American Idol judge has taken to Cooper.
Neither of the reps has come up with a comment yet.
Source of the image: Madamenoire.