Appearing at Michael Forever, the Michael Jackson tribute show, Christina Aguilera made herself unforgettable in more ways than one.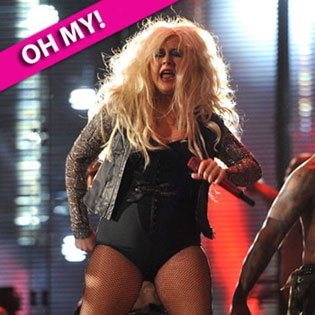 She chose to perform one of the late King of Pop's favorite tunes – Smile, written by Charlie Chaplin for his film Modern Times and covered by Jackson in 1995. It went down well, but most of the 40,000 music lovers who attended the concert must have been left with mixed impressions due to the singer's astonishing get-up.
The singer, famous for her curves as well as for her vocal abilities, unhappily chose a very tight corset with fishnets for her Wales appearance which did little credit to her voluptuous body. Her hair extensions that looked as if her hair hasn't been done for some time went to augment the unfortunate impression.
Allegedly having realized that she could do better than showing a Lady Gaga-esque clothing inclination, she donned a more fitting costume for her second appearance, but her previous image had stuck (pics can be seen at RadarOnline).
The 30-year-old pop diva sang alongside Smokey Robinson, Cee Lo Green and Jamie Foxx at the memorable tribute concert.
Source of the image: Radaronline.