Every year Victoria's Secret produces a bejeweled bra and entrusts their most popular model to advertise it. This year, the brand's favorite model is Miranda Kerr, since she appeared at a photo shoot in a bra worth 2.5 million dollars. She not only took part in the photo campaign, but will appear on the catwalk in Victoria's Secret Fantasy Bra next month.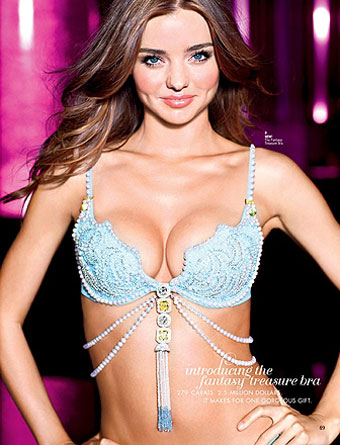 The precious push-up has been created by the jewelers from London and decorated with several thousands of precious stones, 142-carat white and yellow diamonds, pearls, topazes and aquamarines in a golden frame. The image is completed by the two 8-carat white diamonds and two 14-carat yellow diamonds placed in the center of the bra.
It is not surprising that Kerr is delighted. She says it is an honor to wear the bra which is just a work of art. According to the model, it is incredible, and she feels like a mermaid in it. The girl cannot believe that she wears two and a half million dollars on her breast!
However, this bra is not the most expensive one. For example, Adriana Lima put on as many as five million dollars back in 2008!
Source of the image: Myfashionlife.