Hugh Hefner's Christmas was graced with a very special gift, and he has already claimed that it was "the happiest Christmas weekend in memory". The 84-year-old Playboy founder is engaged again!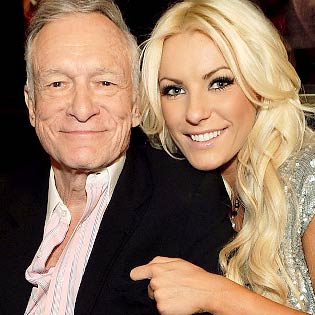 The girl of his choice is his 24-year-old girlfriend Crystal Harris who is a Playmate. The engagement was officially confirmed to UsMagazine by a Playboy rep.
The news first surfaced on Sunday with Hefner's Twitter message in which he announced that he had given Crystal the ring. He was very unequivocal about it, making a point that it was an engagement ring, and he was not going to be secretive about it.
According to the famous publisher, his bride-to-be "burst into tears" when she saw the ring.
The engagement is leading up to what may be Hefner's third marriage. His first marriage with Mildred Williams lasted 10 years (1949-1959) and brought two children, Christie, 58, and David, 55. Thirty years later he tied the knot with Kimberley Conrad, Playmate of year 1989, that ended in 2009 with two more children, Marston, born 1990, and Cooper, born 1991.
Source of the image: Flickandtea