World-famous model Gisele Bündchen and her husband Tom Brady, football player, are expecting a child by the end of the year. The event is going to acquire additional eagerness and excitement by the fact that Gisele refuses to know the sex of the child beforehand!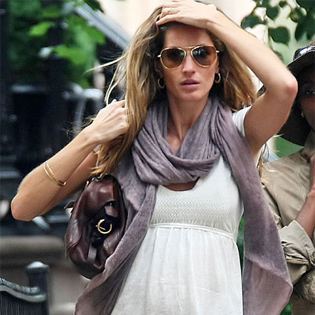 Speaking about it during the interview for the Brazilian magazine Caras, she said:
"We decided not to know. We will only know when it is born, in December. I want the emotion of finding out then if it is a boy or a girl."
Still, in her heart of hearts doesn't she hope for a girl? At least she laid aside some of the cutest girlie designs from her sandal line in Brazil.
"I kept some little sizes from the collections thinking that, if one day I had a girl, she would love to use them. The baby versions are really cute."
Either way, this will be a joyful occasion!
Source of the image: thefrisky.com.