It's a Caribbean beach that Courteney Cox, 46, and her 6-year-old daughter Coco now prefer to be, and the mother also requires the company of her Cougar Town cast mate Josh Hopkins.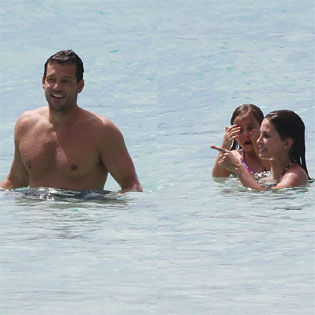 Well, Cox struck free from her husband David Arquette in last October and she needs company. Hopkins, 40, has shown already that he is that – in Hawaii they were very friendly while filming their surf scenes. But that was work, and now they are sticking together for purely personal reasons.
When addressed for a comment, their rep told PEOPLE that Cox and Hopkins are on vacation, they are not alone but in a company of friends and there is nothing romance-related. According to the rep, the relationship is "strictly platonic."
Among the Cougar Town set they are also known as good friends without any romantic add-ons, true. Nevertheless, isn't it great grounds to grow some sweet romance on?
Source of the image: Celebitchy.