For the year 2013 Channing Tatum may have to lay off his career plans for the sake of his family – that will be one child bigger!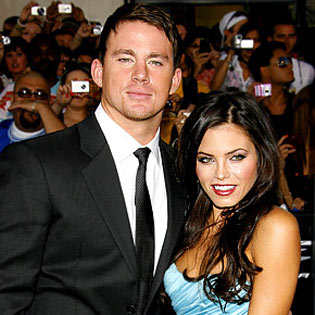 The Magic Mike actor and producer's rep informed Us Weekly that Tatum and his three-year-long wife Jenna Dewan-Tatum are expecting their first child to be born some time next year.
The movie star, and his wife, both 32, hit it off during the making of 2006's Step Up, got engaged two years later and walked the aisle in 2009 in Malibu, Calif. Speculations about their starting a family began in January when Jenna Dewan (first dancer, then actress) told Us that she was hoping for it. At that time she was vague about a possible date, but it seems that Mother Nature settled this issue for them!
A source close to the family let drop that Dewan's pregnancy came as "a total surprise." Also, Tatum is said to be considering going off work for a year to welcome the baby and witness its first months.
That coincides with what the actor himself told about his plans to Entertainment Weekly – Tatum said he meant to shelve acting for a period, but instead of letting out family news he gave to understand that he was working on some behind-the-scenes projects with co-producer Reid Carolin.