The famous Hollywood couple Michael Douglas and Catherine Zeta-Jones are back together. We will remind you that Douglas and Zeta-Jones broke up about six months ago. When this became known to the journalists in August, the actor's representative explained that the couple had decided to live separately from each other in order to "assess what was happening and work on their marriage". The couple is going through difficult times.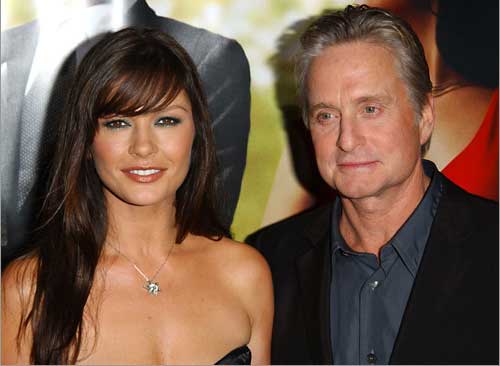 It is known that three years ago, Douglas was diagnosed a larynx disease, which he eventually has managed to overcome. And Zeta-Jones, suffering because of her husband's illness, was later treated in a psychiatric hospital for depression. All this has left its mark on their relationship. But it seems that all the bad things are behind.
According to newspapers, Zeta-Jones returned to Douglas' apartment in New York, and now they are trying to fix their marriage. They say, Douglas is happy and looking to the future with optimism.
At a recent premiere of the Last Vegas movie, in which Douglas performed one of the roles, the actor was seen with a wedding ring on his finger. They say Michael's wife called and wished him good luck, to which he replied, "Thanks, honey". After a conversation with her, he looked happy.
It was then that the actor shared the happy news of the reconciliation with friends. According to a source, Douglas talked about his wife most of the evening. His friends questioned him about Catherine, and he replied:
"We are doing great, she's better than ever."
At a TV show this week, Douglas said:
"Sometimes people take a little bit of a break, but it doesn't necessarily mean that's the end. I'm very hopeful."