Avril Lavigne has been a happy recipient of Chad Kroeger's engagement ring since August, 8, and it is to be exhibited on the cover of the September issue of Hello! Canada.
Avril Lavigne is engaged
The bling the 37-year-old rocker picked for his fiancée is something very beautiful and expensive, shares with Us Weekly jewelry expert Michael O'Connor. His estimation of its price runs to $350,000. He describes it as "a pear shape diamond set in platinum" that suits the rock singer, 27, due to its individuality and exquisite glamour. The central diamond looks like it were 10 carats; it is surrounded by side diamonds shaped like crescents. They are especially made so to fit in with the central diamond, which make them also unique.
Hello! Canada will also feature Nickelback's frontman's story about how the flames of passion were kindled between them. While they were engaged in many hours' studio sessions Kroeger realized he was being slowly enchanted by Lavigne. "It was incredibly powerful and something I'll never forget," he remembers.
Kroeger, who has never been married, describes his six-month-long romance as the possibility to spend all his days with his "best friend" which made him incredibly happy.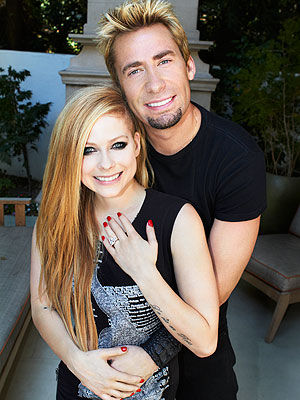 Lavigne, too, is willing to gush about her fiancé who is, according to her, amusing, caring and considerate.
Lavigne's ex date was 29-year-old reality star Brody Jenner, with whom she had been linked for the last two years after the termination of her four-year-long marriage to musician Deryck Whibley, 32.