Thursday was a tumultuous day for former American Idol runner-up Adam Lambert who got soused – got into a fight – got into jail and got out of jail but may yet have some legal worries over the incident.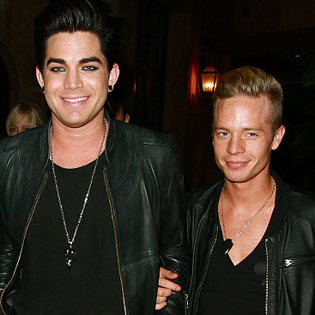 Lambert, 29, and his boyfriend, 26-year-old Finnish reality star Sauli Koskinen, were hanging out at a gay bar named Don't Tell Mama in Helsinki, Finland, when things started to get rough and somebody must have blown a short fuse. After the squabble turned physical, Lambert and Koskinen were thrown out of the place, but carried it on outside. It is reported that a woman from their company, Finnish beauty queen Sofia Ruusila, was also accidentally clouted.
Hollywood Reporter wrote that the police arrived at the scene and took the quarrelsome duo in for questioning anticipating several assault offenses to be filed, but released both later on Thursday afternoon.
Both of the noisy couple hastened to speak out online as they broke free. Koskinen, winner of the Finnish version of Big Brother, insisted on his blog that it had been a private matter, adding that "Fame is not easy… Love is not easy either."
Lambert's after-fracas tweetings were more jocular, hinting that they had had a drop of vodka too much but now that they had gotten over the incident, everything is fine again. "Jail+guilt+press=lesson learned," he wrote.
The couple have come back to normal, but it's still uncertain whether any charges will be brought against them.
There is still no comment on the fight forthcoming from Lambert's reps.