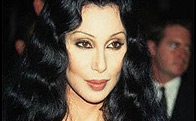 Famous Hollywood director Christopher Nolan invited 62-years old singer and actress Cher for the role of the Catwoman in the third Batman movie. He's had the idea for a long time, but offered the role just recently. It's curious if Cher could deny this offer.
The Catwoman has also been played by Michelle Pfeiffer and Halle Berry. Nolan says the new Catwoman will be the absolute opposite of her predecessors.
The filming of new Batman kicks off early in 2009.
Source of Sher's photo: disco80.ru