Are you sure you know all of your relatives? Mostly only the closer ones with whom your family has been in touch for years. What about your many-times-removed cousins? Probably you are not even aware whether they exist or not, and doubt whether you would want to become aware. But what about the dream of having a rich and famous relative in the background – one you can mention casually in passing before people and half expect costly presents and some extra bucks (thousands of, actually) now and then? Well, maybe you have them.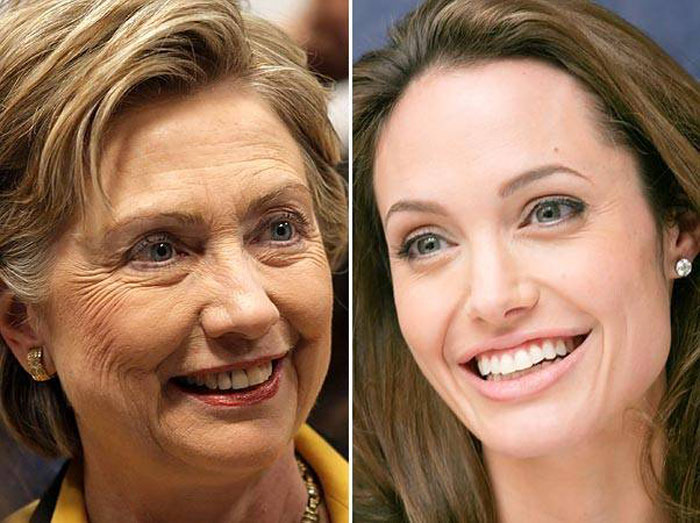 At least we know that celebrities do have cousins and other distant relatives. To begin with, we can name some who are shining professionally surrounded by their family, displaying their talents together, like the Baldwin brothers, the Roberts, Julia and Emma, the Wayans. There are stars who even go some way to drag their relatives into the public eye, so we have heard of them and sometimes wonder what they are famous for except being relatives. That's nothing surprising. Far more titillating are cases when people related to each other have achieved success and fame by themselves in their particular field. Sometimes they didn't have any idea they were related to another celeb until the fact came to be known in some way or another.
Yes, some of our distant cousins are way too distant, yet they are cousins, and knowing they exist may be a boon of your life! Here are some illustrious examples to get you interested in your own genealogic tree.
The Dash cousins, Damon and Stacey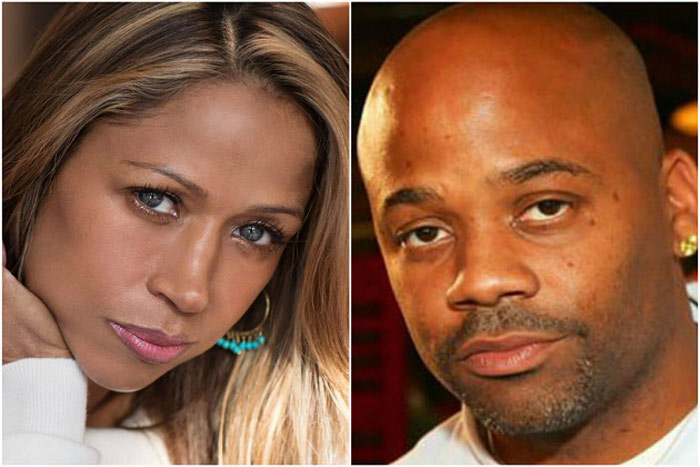 The founder of Rock-a-Fella Records and former Jay-Z manager Damon Dash and movie and music video star Stacey Dash were mistaken for siblings several times, but they are actually first cousins and know each other very well. They hobnobbed in adolescence which they spent in New York and saw one another rise to prominence in their respective careers. It all changed recently when Stacy Dash shifted her political predilections and became given to issuing controversial statements which staggered her reputation in the Black community. Damon has been giving his cousin a wide berth ever since. How will their relationship shape in future? Are they coming apart, or is there going to be a reunion?
The McCarthy cousins, Jenny and Melissa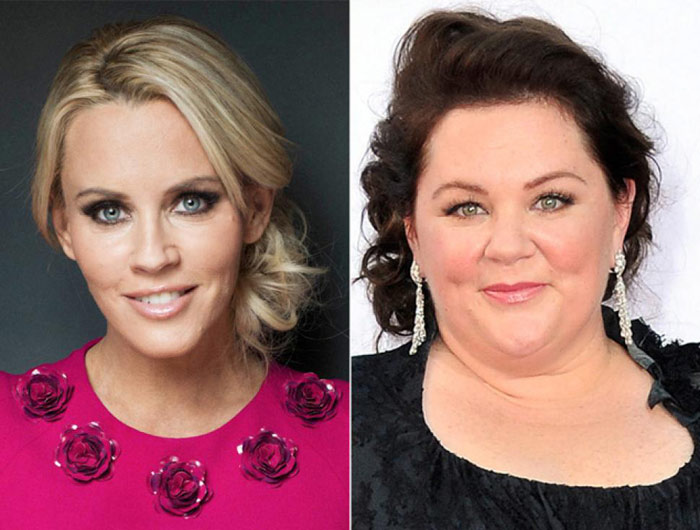 Jennifer McCarthy, actress, model, and screenwriter, was often known to extend family support and attention to her first cousin Melissa, also an actress. Between them they count to their credits work in Charlie's Angels, John Tucker Must Die, Bridesmaids and other titles. Their relation was officially confirmed in 2011 when Jenny congratulated Melissa on securing an Emmy by Twitter. She is never hesitant about standing up for her older cousin when critics cavil at her – they may be sure of getting a dressing-down from Jenny in unequivocal terms. Here's one family spirit manifestation.
Angelina Jolie cousin to Hillary Clinton
Now this bit of news may come as a surprise to some. Nevertheless, it's an established fact: mother of six Angelina Jolie and former First Lady and the US Secretary of State Hillary Clinton are ninth cousins. William Addams Reitwiesner, a Washington genealogist, traced their roots to one Jean Cusson of Quebec (passed away in 1718). What's more, Jolie is not the only celeb relative on the Clinton tree; her other distant cousins are Celine Dion, Madonna and Alanis Morissette. It does look as if Clinton could have made a stir in the world of arts had she chosen to – the family talent runs strong!
Whose cousin Madonna but Lady Gaga's
This is a family tie that is only partly surprising – after getting over your initial surprise you may feel like saying you had known this all along subconsciously. A certain similarity manifests itself, doesn't it? The discovery belongs to a genealogy specialist with the New England Historic Genealogical Society who unearthed the singers' common relatives, a farming couple who came to Quebec from France in the XVII century. It makes Madonna and Lady Gaga ninth cousins, once removed. Well, we all heard the two compared quite often, with the extremist view that Gaga took a page out of Madonna's book. Now we can say she just plays out what is recorded in her genes.
Humorous cousins Bill Bellamy and Shaquille O'Neal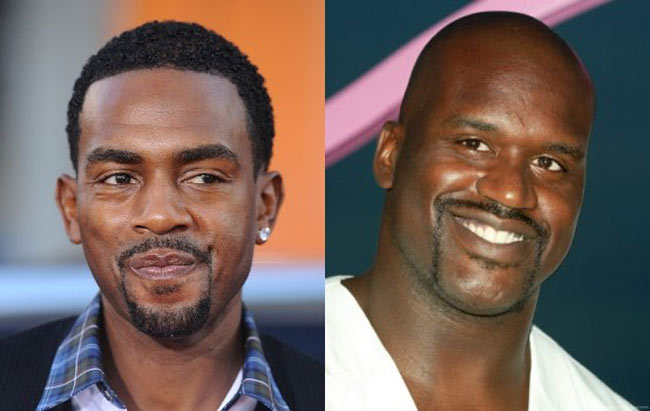 Bill Bellamy, a comedian, and Shaquille O'Neal, former star of NBA, are second cousins who have actually been keeping in touch for years. Both of them are known for their humorous attitude to life – the trait that seems to run in the family. The older cousin, Bellamy, adds spice to the relationship regularly stating that he has a hard task understanding O'Neal, alluding to the latter's muffled pronunciation. The two must have a few standing jokes between them!
Lenny Kravitz has a cousin on TV – Al Roker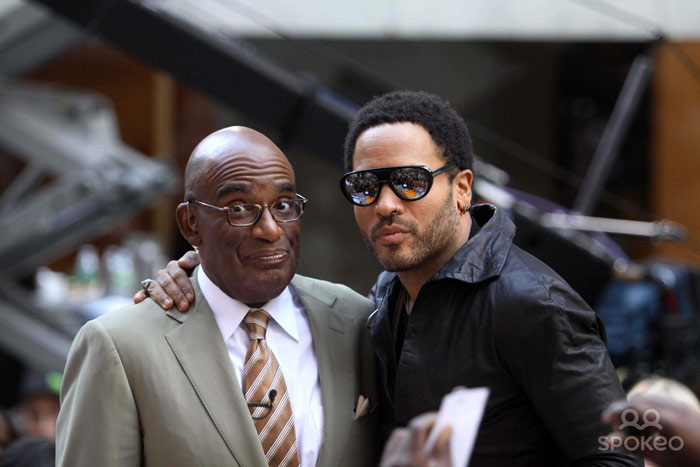 This family duo unites television and rock worlds through their grandparents. The weather forecast expert and host Al Roker was cousin to the actress Roxie Roker (deceased as of 1995), who gave birth to Leonard in 1964. Consequently, the TV presenter and the rocker are first cousins, once removed. Al Rocker shares that his kids think more of him for that, being, presumably, Lenny Kravitz's ardent fans.
Artistic family of Ray J, Brandy and Snoop Dogg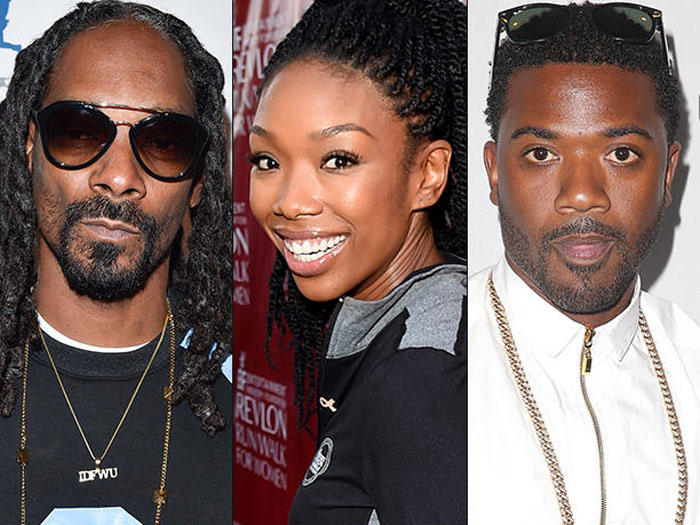 Singer and actress Brandy Norwood is sister to hip-hop star Ray J who is really William Ray Norwood, Jr. This was some news in the days of UPN's sitcom Moesha where the two played relatives. As for Snoop Dogg, he has a kind of a habit to call a handful of fellow-artists "nephews." The exact nature of his relation to them is not always clear, but in an interview in 2006 he admitted that he was Brandy and Ray J's first cousin. He went on to say though that it doesn't mean very much to them. So, this way of referring to Brandy and Ray by Snoop Dogg should be taken literally.
Justin Bieber, Ryan Gosling, Celine Dion, and Avril Lavigne ancestor-tied
We know they are all Canadians, but this seems to be not the only tie they have in common. From the day he was born Justin Bieber was connected to Grammy winner Celine Dion, actor and musician Ryan Gosling, and harder-rocking Avril Lavigne in family relations that are more than 400 years old. Justin's family and Celine Dion are tenth cousins, thrice removed through Jacques Vezina and Marie Boisdon who came over from France in the beginning of the XVII century. Another French couple, Mathurin Roy and Marguerite Bire, of roughly the same period, furnished Bieber's ties with Gosling and Lavigne – those who are fans of these recording artists will be glad to know Gosling is Bieber's 11th cousin, and Avril Lavigne is his 12th.
Royal relatives Ellen DeGeneres and Kate Middleton
The Duchess of Cambridge is certain to have many relatives throughout the world, but Ellen DeGeneres never dreamed she is one of them. As the preparations for the Royal wedding were in full swing, the famous TV host was notified by the New England Genealogical Society that she is 15th cousin to Kate Middleton through the XVI-century British family of one Sir Thomas Fairfax and Agnes Gascoigne. Unfortunately, the relationship didn't result in DeGeneres' getting an invitation to the grand event.
Barack Obama has a cousin in Hollywood
The US president is not without his share of celebrity relatives – and his are from A-listers, of course! Like his ninth cousin Brad Pitt, whose ties have been traced by The New England Historic Genealogical Society to one Edwin Hickman; a native of the XVIII-century Virginia. Can you spot a facial resemblance between the two?
Another world-famous relative of Obama's is no other than George W. Bush, a tenth cousin; the tie comes up from Samuel Hinkley of Cape Cod in the XVII century. Obama seems to have kept this dark, assumedly not wanting to accentuate his cousinship to one who didn't actually shine during his tenure.