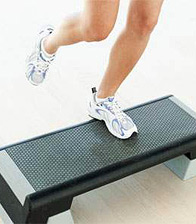 Why taking pills, when you can't fall asleep? They have a whole range of side effects. It has been recently found, that there's a better way to cure insomnia without taking sedatives. Regular aerobics classes can help reduce anxiety and even get rid of insomnia. As for me, besides playing badminton, I do step aerobics at least once a week and after it I get a nice face color and a perfect mood, which makes me so efficient in work – just like nothing else. So, I would recommend aerobics as an antidepressant, too.
The Aerobics Study
Scientists at Sao Paulo University have recently found this connection between aerobics and insomnia. Meanwhile they have also mentioned, that other kinds of physical activities don't have such insomnia curing effect.
Aerobics and Insomnia
The scientists have made this resume, after they studied the effect of different physical activities on the human body. It occurs, that doing aerobics at even the lowest complexity level reduces the time of expecting the sleep by 54% and the time till the Rapid Eye Movement (REM) sleep – by 36%. Together with it the total duration of sleep increases by 21% and the health-improving effect of sleep – by 18%.
Why Aerobics Is Good
Doing aerobics reduces the symptoms of excess anxiety. This kind of sport is simple and doesn't exhaust one. In general, aerobic exercises improve the cardiac performance and give one a lot of positive emotions.