Some drinks (or maybe even most drinks) are like that – they are best at a certain temperature, so if you want to enjoy them in full you have a choice. Either you are careful about the timing – or you delegate the task of keeping your beverage just right to your mug. If you go for the second option, here's a reliable mug that will do right by you.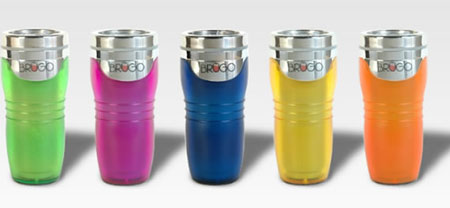 Called the Brugo Tip'n'Sip, it's a mug that will bring in a splash of bright color to your environment. Besides a bright spot you get double-insulated plastic that keeps the drink at the right temperature but doesn't convey it to your fingers. There's a screw lid – another useful feature – and little holes. So your $21 can get you a Perfect Temperature Zone mug that will serve you cold drinks this summer and will change its policy once the summer is over.
Source of the image: Gizmodiva.