A special place in the range of memorabilia to be unveiled against the glorious occasion of Prince William and Kate Middleton wedding will certainly belong to prophylactic items released by a company of condom manufacturers. Some time prior to the royal wedding scheduled for April 29 boxes of protection will be available to buyers.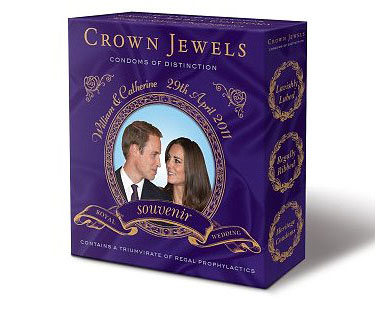 A beautifully-colored pack will include three condoms, a leaflet with a photo of the illustrious couple and will bear the slogan "Lie back and think of England." The box is described as a "timeless souvenir heirloom" collector's piece.
Commenting on this quaint commemorative product from Crown Jewels Condoms of Distinction, Hugh Pomfret, on behalf of the company, referred to it as a unique way to carry the memory of the British Royal Wedding through years and years. He assured that the "Royal Wedding Souvenir prophylactics" are the result of tireless toil of the Crown Jewels staff who looked forward to creating a peerless memento of the historic occasion.
The condoms are described as a perfect combination of "strength" symbolizing the Prince and "yielding sensitivity" symbolizing the future lady his wife.
Source of the image: Gistexpress.