Until her death on Monday a woman from Jacksonville, Texas, was believed to be the oldest person alive on the Earth. Eunice Sanborn, born, according to census records, in Lake Charles, La., on July 20, 1896, was officially 114 years old at the time of her demise – although she had claimed that she was even older.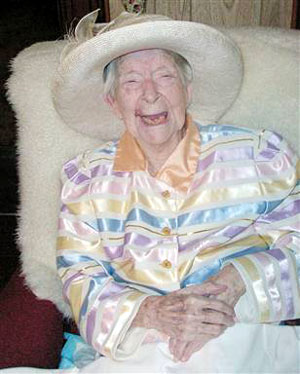 Going by the records, the Gerontology Research Group from Los Angeles had Sanborn registered as the world's oldest person. Still, it is known that Sanborn used to insist that the Census Bureau had been mistaken in putting down the year of her birth, which was actually 1895. Therefore, Agence France-Presse, repeating the good lady's words, reported her 115th anniversary on July 20.
The Jacksonville Daily Progress informs that Sanborn died at her home at 6 am Monday, the news reported by her long-time friend and caretaker David French. She has been, as French described it, the Lord's "powerful witness for 115 years."
He also said that she died peacefully, suffering no discomfort.
The Houston Chronicle published Sanborn's profile in 2008, which outlines the woman's life story. She outlived three husbands and one daughter (the only child she had). Her last husband died in 1979.
Eunice Sanborn was proclaimed as the one holding the distinction by the Associated Press on November 4 upon the death of the then oldest person, one Eugenie Blanchard, a French nun residing on the island of St. Barthelemy, the Caribbeans.
The Gerontology Research Group lists other people who were born in 1896 and who are now 114. Sanborn's successor as the world's oldest person title holder is Besse Cooper who lives in Georgia, she was born on August 26. The second oldest is now Walter Breuning (Montana), born on September 21.
Source of the image: Msnbc.