While one may argue for ages whether sex is physiology, pleasure or art, inspirers of interactive sexual exhibit never doubt that sex is science!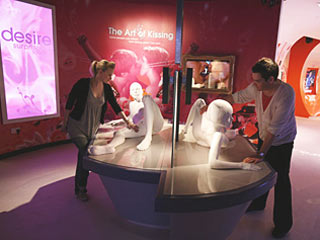 Amora sex academy that is located in the premises of a popular sex shops welcomes couples and single visitors who keep frequenting the place to refresh their bed qualifications. Erogenous male and female body parts are shown on 50 displays and everyone is allowed and encouraged to feel them with their own hands!
For example, naked natural-size female mannequins are illuminated if the G-spot is correctly detected. Whipping buttocks shows how much strength you should apply to please an artificial human replica.
A movie on various sexual positions is one of the exhibition's attractions. According to Reuters, a position called Italian Chandelier ranks as the most viewed. Sex experts say, lovers are capable to burn around 920 kilocalories per hour when making love in this position. It should be reminded that such academy is open in London and will be launched in Barcelona, Spain.
Source of the image: news.com.au.