The Lilac Magazine has violated the taboo. For the first time, an Arabic gloss magazine has displayed a model in a revealing swimsuit on the cover. It should be noted that this Arabic magazine was produced in Israel. None of the publishers in the Middle East would have dared to do this. The 22-year-old Israeli model Huda Naccache from Haifa was invited to take part in the brave deed.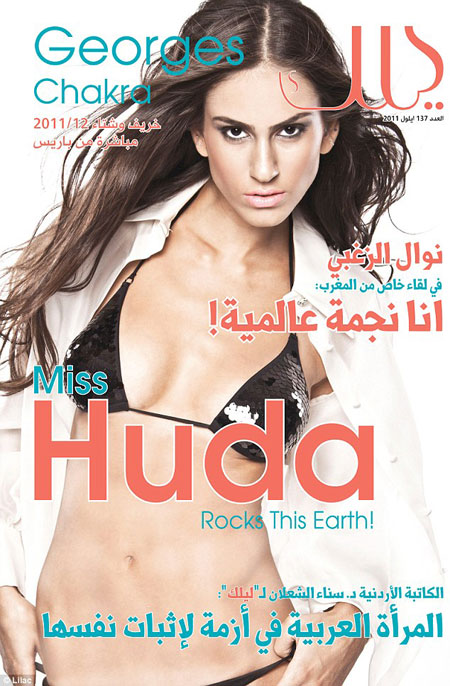 The Europeans perceive the traditions of the East as the discrimination against women and the violation of their rights. However, the Arab world still can preserve its own vision of this issue. The only publication that pursued the goal of breaking taboos for women adopted in the East was the Lilac glossy magazine. Its publishing house is located in Israel, and the magazine has been sold throughout the Arab region for 10 years.
The publisher of the magazine admits constant trying to violate the traditions of the East over the period of 10 years of working career and to show Arab women that they can have more rights and freedoms. For the first time in the Middle East, the magazine was published with an almost nude Arab girl on the cover.
The model herself is proud of becoming the first model, who showed her body on the cover of the magazine. Huda also acknowledged that her decision had not been easy. At first she did not want to appear on the cover in a bikini, and she was worried about how it conformed to the rules of society. The model said that her parents helped her make a choice, they let their daughter be pictured in a bikini on the cover of the magazine.
However, the authorities of some countries have refused to distribute the new issue of the Lilac magazine. The editor was ready for such difficulties. The region still has strict censorship over the display of nudity. However, the editor is sure that some more liberal countries, such as Lebanon, for example, should not impose any bans on the sale of the magazine.
Huda says she is not afraid of being a girl who is the first to do something. The Israeli model considers herself to be brave and thinks that her action will open up new opportunities for other Arab models.
Huda surely makes a small revolution. It is still impossible for the East to show the naked female body. For example, the UAE operates a strict rule prohibiting the media to publish the photos of models in bikinis and to show photographs of women with bare shoulders, knees, back and neck. The Arab model Huda Naccache also violates the traditions of her region rejecting the idea of a marriage and dreaming of a modeling career in the USA and Europe. This model will represent Israel in the "Miss Universe" beauty contest which will be held in Thailand in December.
Source of the image: Dailymail.