Today the first semifinal of Eurovision Song Contest 2009 took place in Moscow, Russia. This was a great event not only for this country, but also for the whole Europe. Moreover, this year the contest is also broadcasted in Australia. Who knows, maybe, some day Eurovision will become Worldvision song contest? Well, let's get back to nowadays, namely today, as we'd like to share with you the first semifinal results. At the end of the article you will find out what countries qualified for the final round.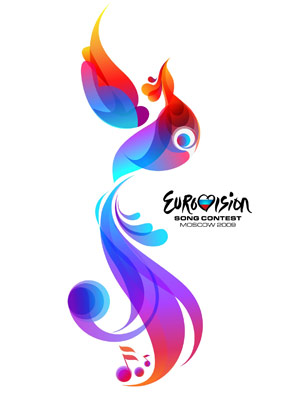 Montenegro: Andrea Demirovic – Just Get out of My Life
Andrea Demirovic from Montenegro performed a nice pop song called "Just Get out of My Life" that also included an interesting dancing composition. Andrea was the first female singer to present Montenegro at Eurovision. We liked her show, she has a good voice!
Czech Republic: Gypgy.cz – Aven Romale
This year Czech Republic is presented by a Gypsy band called "Gypgy.cz" with the song "Aven Romale" ("Come in Gypsies" in English). The guys wore weird costumes – the soloist was "super-gypsy from comics". It was pretty unusual to hear a Balkan song in English (the song was actually in two languages – English and Romani), but it sounded exotic and pretty good.
Belgium: Patrick Ouchène – Copycat
Patrick Ouchène from Belgium sang an Elvis Presley style song "Copycat". By the way, Patrick is one of the most popular Elvis' imitators in Belgium. He is trying to breathe new life into Elvis' Rock-n-Roll and make it popular again. And he created a great entourage on the stage. You could believe you were back to the 50's.
Belarus: Petr Elfimov – Eyes That Never Lie
Petr Elfimov from Belarus presented a song called "Eyes That Never Lie" resembling one of Gary Moore's ballads. By the way, Petr composed the music by himself. The song sounded a bit depressive, and, unfortunately, the singing itself wasn't too good.
Sweden: Malena Ernman – La Voix
Sweden was presented at this Eurovision contest by Malena Ernman. The song "La Voix" ("The Voice" in English) she sang was not as good as the singing. This is because Malena is mezzo-soprano (she is an opera singer and is a member of Royal Swedish Academy of Music), while the song was something like pop. It simply didn't suit the beautiful voice of the Swedish singer. The song was in both English and French.
Armenia: Inga and Anush – Jan Jan
Armenia did a lot to distinguish themselves. With their song "Jan Jan" ("My Dear" in English), Inga and Anush showed they didn't want Eurovision 2010 to take place in their country (probably because of the economic crisis). Singing the primitive "Everybody, Move Your Body", plus the national style melody makes extremely bad show. Using exotic music should be a very delicate process, in respect of composing the lyrics in English. They simply tried to wed two absolutely incompatible things. Although… the costumes and the entourage were good.
Andorra: Susanne Georgi – La Teva Decisió (Get a Life)
The song of Susanne Georgi from Andorra is called "Your decision" in English (actual title: "La Teva Decisió (Get a Life)"). It was a nice pop song, and the dancing was a kind of retro style. The singer resembled Geri Halliwell a bit. Maybe, this was the trick to get to the final.
Switzerland: Lovebugs – The Highest Heights
Guys from Swiss band "Lovebugs" presented their country with a song "The Highest Heights" in English. It was a good quality music and lyrics, but… The soloist is said to have taken singing classes before this Eurovision song contest. Unfortunately, he needs much more classes to be able to sing good.
Turkey: Hadise – Düm Tek Tek
Of course, we all already know Hadise with her pop song "Düm Tek Tek". We had already shared the song and the lyrics on Geniusbeauty.com. Hadise is actually the favorite of Eurovision 2009 (most people bet on her at the bookmakers'). Everything was good – the dance, the costumes and the song. The only thing that could not be liked by the audience is the fact that it was quite difficult for Hadise to belly dance and sing at the same time.
Israel: Noa and Mira Awad – There Must Be Another Way
The song "There Must Be Another Way" performed by singers Noa and Mira Awad from Israel called is probably the most "political" one at Eurovision 2009 (not taking into consideration the Georgian ex-show). It's in three languages – English, Hebrew and Arabic – and is a message to stop the conflict between Palestine and Israel. Besides, the singing duet sounded very beautiful, as both singers are very talented. By the way, Noa and Mira Awad are good friends.
Bulgaria: Krassimir Avramov – Illusion
Krassimir Avramov who represented Bulgaria at Eurovision 2009, seems to hate winning. When performing the song "Illusion" on the stage of Olympic Indoor Arena in Moscow, he sang out of tune a lot. Moreover, the song wasn't good at all. The performance was awful. But let's not blame him! He was just one of the artists trying to avoid getting into the Final (again, the financial mess was the reason). Besides, Krassimir used to be a mime, and then he started singing. We hope, he is a good mime, as singing is not something he's good at.
Iceland: Yohanna – Is It True?
Yohanna is an 18-year-old singer from Iceland who sang a romantic song "Is It True?" at this year's Eurovision song contest. But the fact she's so young doesn't mean anything. She recorded her first album when she was 10. She even claims to have learnt singing before speaking. This girl now teaches at the music school she finished herself. She has a perfect, "silky" voice, and the way she sang her song was very beautiful!
FYR Macedonia: Next Time – Neshto Shto Ke Ostane
Twin brothers Martin and Stefan Filipovski were the ones presenting FYR Macedonia with their song "Neshto Shto Ke Ostane" ("Something That Will Remain" in English) in Macedonian. Their rock duo is named "Next Time", one of the twins is the soloist, while the other one plays the guitar and sings the supporting part. It was a good rock. We liked the performance!
Romania: Elena – The Balkan Girls
Romania was presented by Elena with her song "The Balkan Girls" that sounded just like any other pop song – nothing special. The backup dancing was good though, and the costumes as well. By the way, although Elena is a priest's daughter, she is considered to be the sexiest singer at Eurovision 2009. So, Elena has chances to win at least due to this.
Finland: Waldo's People – Lose Control
Finland changed the tradition of sending Finnish rock bands to Eurovision. This year the country was represented by a dance group "Waldo's People". The song they sang is called "Lose Control". By the way, at first there was another Eurovision song prepared, but at the last moment they chose this song (hopefully, this one was really better). There were a mini-fire show, cheap rap and primitive music. Hard to say, who could like this.
Portugal: Flor-de-Lis – Todas as Ruas do Amor
Portuguese band "Flor-de-Lis" has nothing to do with "Notre Dame de Paris", "Lis" was meant to be Lisbon (so, the name of the band means "The Flower of Lisbon"). Their song is called "Todas as Ruas do Amor" ("All the Streets of Love"), and the performance involved national instruments and costumes. Sometimes the soloist sang out of tune, but the overall impression is positive.
Malta: Chiara – What If We
This year we were able to see Chiara at Eurovision again (she already represented Malta in 1998 and 2005), as she calls herself the one who achieves her goals. And her goal is to win at Eurovision. She claims to participate in the contest until she finally wins. As for Chiara's private life, she doesn't earn much from singing, (which is really surprising, because she has an amazing voice and sings clearly), so she has to make some money on the side by being a secretary. As for this very show, it seemed everybody liked the song she performed, "What If We", it was very beautiful.
Bosnia and Herzegovina: Regina – Bistra Voda
The band "Regina" presented Bosnia and Herzegovina with the song "Bistra Voda" ("Clear Water"). It was a Balkan style song in the Bosnian language, with an interesting melody and a couple of national instruments. It was a good show. Positive impression.
1st Semifinal Results – 10 Eurovision 2009 Finalists
So, here are the results of Eurovision 2009 first semifinal. The following countries qualified for the final round:
• Turkey;
• Sweden;
• Israel;
• Portugal;
• Malta;
• Finland;
• Bosnia and Herzegovina;
• Romania;
• Armenia;
• Iceland.