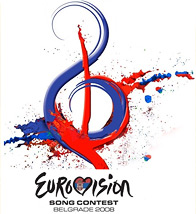 Eurovision is an annual music competition, which is held in Europe. After all members presenting their countries sing their songs on the stage, everyone can vote on the artist (band) or country they liked most. The only limit is that you cannot vote for the country you are from. This time the contest is held in Belgrade, Serbia. Today, on May 20, was the first semifinal. The second one will be on Tuesday, 22 May. And the final can be seen on Saturday, 24 May.
Eurovision 2008 Finalists
Here's the list of the countries, which will be presented in the final on Saturday. The artists from these countries were voted on today:
Greece,
Romania,
Bosnia and Herzegovina,
Finland,
Russia,
Israel,
Azerbaijan,
Armenia,
Poland,
Norway.
Congratulations to these countries, they are already through the semifinal qualifiers! France, Germany, Spain and the United Kindom are always the finalists, so, add them to the list above. Let's look forward to what the result will be.
Kalomira from Greece
I wouldn't say, that one of the artists (bands) seen this evening have impressed on me much more than other ones. And don't say, it's because my TV set is not big enough! I remember the girl from Greece, Kalomira, who was the last one with her performance. She danced very well and sexy, sang well too, demonstrated a pretty good English and not too much clothes, which was appreciated by the audience. The less you wear, the more chances you have – this is the informal slogan of Eurovision.
Dima Bilan from Russia
I can also recall the guy from Russia, Dima Bilan, with his pretty stupid performance. While he was singing (pressing the sounds from himself), another man was playing the Stradivarius violin, and Evgeny Pluschenko (the Russian figure skater, Olympic Champion and many times world champion) was trying to skate along a very limited area – shame on him! Poor. I wonder, what the latter two guys got for it. This looked actually absolutely not nice. It smelled of money, much money paid.
Boaz from Israel
Boaz, the boy from Israel, sang an exotic (at least for me) song in both Hebrew and English. This sounded very nice.
Nico and Vlad from Romania
Nico and Vlad from Romania were good, too, but I'm afraid, that, unfortunately, they are too operatic for this contest.
Teraesbetoni from Finland
The guys from Finland, Teraesbetoni, were, as usual, pretty hard – they played and sang hard music. The tune is unfortunately hard to remember. And it's also hard to tell, what they were singing about. Everything was very hard.
Isis Gee from Poland
To be honest, I find, that the woman from Poland, Isis Gee, sang the best – she has a very nice voice.
I'm sorry, I can't describe all participants or even all finalists. I shared my opinion with you only about the performances that stayed in my memory. I hope, I didn't offend anybody, this was just my point of view.
No matter, how the final will be, I hope, that not policy and money, but talent will win.