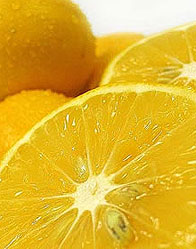 It doesn't need to be mentioned again and again, how healthy green tea is, everybody knows it already. But how lemon effects the beverage is something no one has the idea of. Meanwhile adding lemon to green tea also significantly contributes to the increase of the antioxidant effect of green tea. You already know, that these very substances decrease the risk of cardiovascular diseases and even cancerous tumors. However, instead of lemon you can use any other citrus fruit. This would make the beverage tastier, more fragrant and five times more beneficial to your health.
Adding fruit juices to green tea makes the catechin content five times more, and when you add citrus juice to it, it becomes seven times more. And if you mix ascorbic acid with green tea, you will get a beverage, which is 13 times fuller of cathechin, than an average cup of tea.
In general green tea has much more healthy substances than black tea has: potassium, iodine, fluorine, copper, vitamins С, В1, В2, РР, К and organic acids, that improve the digestion. Moreover, green tea contains catechin and tannin, which are strong antioxidants. So, feel free to add different fruit juices to green tea.