When there is no time for a manicure with the application and drying of several layers of nail enamel, and you need to look stunning, you can use Solid Gold Nail Wraps by Nails Inc.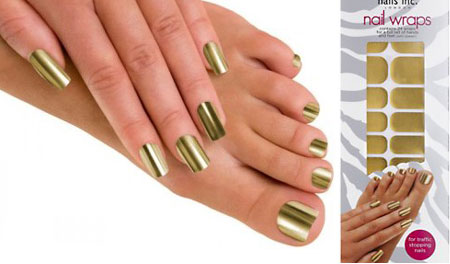 Solid Gold Nail Wraps creates an amazing effect – as if King Midas touched the nails, turning them into gold. However, the exquisite shimmer is available not only in this version – Nails Inc products also include a set of Solid chrome. It provides a white metallic luster with a slight purple hue.
The British brand offers the fans of bold and bright decisions four variants of nail wraps design:
Pink Cheetah
Leopard print
Black and white zebra
Leopard Print purple and white
Solid Gold Nail Wraps by Nails Inc is indispensable for quick making of manicure. It costs 8 pounds ($12) for the set in any of the six variants of design. Each set includes 24 "pieces" of nail wrap for the nails on the fingers and toes, as well as 4 spare items.
We have already written about the nail strips by Avon – the difference in use is that Solid Gold Nail Wraps should be pre-warmed with a hairdryer, and only then applied onto nails.
Source of the image: Littlewoodsireland.