The new Chanel fall makeup collection is called Les Noirs by Chanel Fall 2009, and the name says it all. The collection offers gorgeous dark saturated colors. Les Noirs by Chanel will be available for sale in August, thus you have some time to choose what product will be essential for you during this fall season.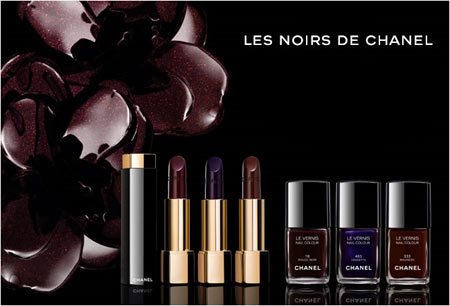 The key themes of the ad campaign are Venice and water. The famous photographer Peter Phillips pictured his new Chanel heroine as mysterious and a little bit tired; she hides from lights and attention behind Venetian carnival mask, and reveals luxurious and impeccable makeup as soon as she takes the mask off. Now, lets move on to the collection itself.
The star of the collection is a set of four eyeshadows Les 4 Ombres, which includes rather contrast colors and black is guaranteed to be one of them. There are also pallets of double eye-shadows called Irreelle Duo.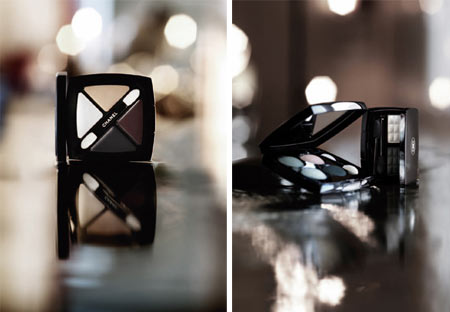 The blush Joues Contraste comes in soft apricot color. You can also get tweed effect blush in Tweed Sienna or a peach powder Douce.
The autumn collection has six new shades of lipstick Rouge Allure: Clan destine (reddish brown), Comedia(pink with blue midtone), Amusing (pink tree), Captive (warm golden brown), Intuitive (beige pink), Instinctive (light berry).
Lip glosses Levres Scintillantes come in golden and pink.
The collection's nail polishes present two contrast colors: Gondola (red with purple midtone and golden sparkles) and Intermezzo (ivory with a pink midtone).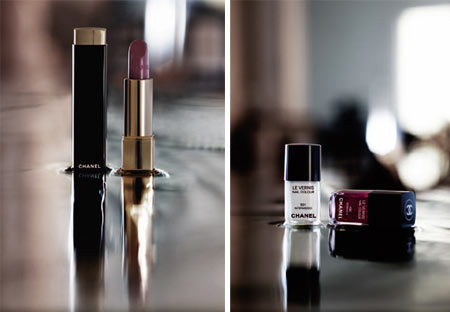 The lip coloring crayon Le Crayon Levres is a must-buy, as well as the eyebrows crayon Le Crayon Sourcils, which comes in two shades – one for blonds and one for brunettes.
Source of the images: temptalia.com, facecandy.blogspot.com.