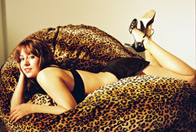 I've recently realized, that Christmas is very soon, but I still have no presents for my relatives and friends. I've already decided, what to buy for my mom, grandma and my two best friends, but it has always been a big problem to find a good present for men, like for my brother. He lives his own life with his family, we sometimes see each other, but I can't say much about what he needs and would really like. I myself hate unwanted presents, which are never used, because they were bought on 24 December just to give at least something as a gift. So, I need to find something that would gladden him and be useful.
I was surfing the web really long and now I know it. I have finally found an excellent gift for him! It is a bag chair. That is really a good gift idea. I can imagine, how nice it will look in his room. It will chime in with the rest furniture. I think he will like this gift and I can almost see him plopping into it with a pleased face.
If you still don't know, what gift to buy for your friends or relatives, here is a good store, where you can find various bag chairs – bean bag chairs. They sell good quality bag chairs. You can choose different colors of it, and they will deliver this joy. They can be cotton, velvet, leather, of three sizes – any of these bag chairs are nice and comfortable. I wish you a Merry Christmas and that your gifts will make your family and friends happy!