Once again, Beyonce is among the celebrities most frequently mentioned in the news. Her new album is being released, another European tour is about to begin, and she releases a new, the third in general, fragrance of hers.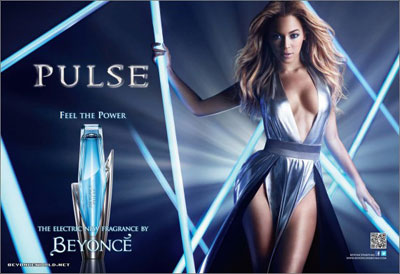 The singer, the winner of 16 Grammy awards and the "Golden Globe" award says that women always tell her that her music makes them feel strong and confident and they begin to feel some inner strength. That is the story she tells about the creation of a new floral-citrus fragrance which will be available on sale in September 2011.
The star's first fragrance, Heat, was a huge success. Beyonce considers that it reflects her character, a certain stage in her life and career. It represents some of her sensual sides, her inner strength and charisma of a southern woman. While the second Heat Rush fragrance is more about the woman who plunges into rest for some time. Beyonce herself admits that the Heat Rush fragrance is good when she is on vacation. And the third Pulse fragrance reflects the beating of the singer's heart and the impulsiveness of her nature, as the celebrity confesses.
The new Beyonce Pulse perfume bottle has a rather complex design. It is produced upside down, and the reporters often ask Beyonce why.
She says she wanted to make the design somewhat fashionable and modern. Beyonce's costumes inspired the creation of the perfume bottle since they often have the same complex structure and design.
Beyonce considers the creation of music and the creation of fragrances very similar. It takes much time to find the necessary ingredients for the fragrance and to write a harmonious composition which ideally combines music and lyrics.
Source of the image: Fabulousbuzz.