A new collection by Jil Stuart is made exclusively in pastel colors. The face of the new season's advertising campaign was Danish model Daphne Groeneveld.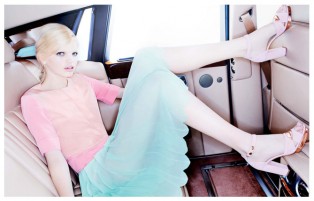 Photographer Mario Sorrenti has captured the girl in a luxury car. Judging by the outfits, she is hurrying to a social event. The model demonstrates different styles of dresses, tops with relevant Basques, and pleated skirts. All of this is performed in a candy and lollipop pastel color scheme, where blue, pink, turquoise, and yellow hues are predominant.
Pastel colors are the main trend of the season. Which of the currently fashionable colors do you prefer? Has anything painted in such colors already found its place in your wardrobe?