Leggings are a universal subject of any woman's wardrobe, but not every woman knows how to wear them properly. Leggings must be worn together with layered clothing. Mixing and choosing different colors and shoes, you can wear leggings at any time of year. Follow these tips to wear leggings with style.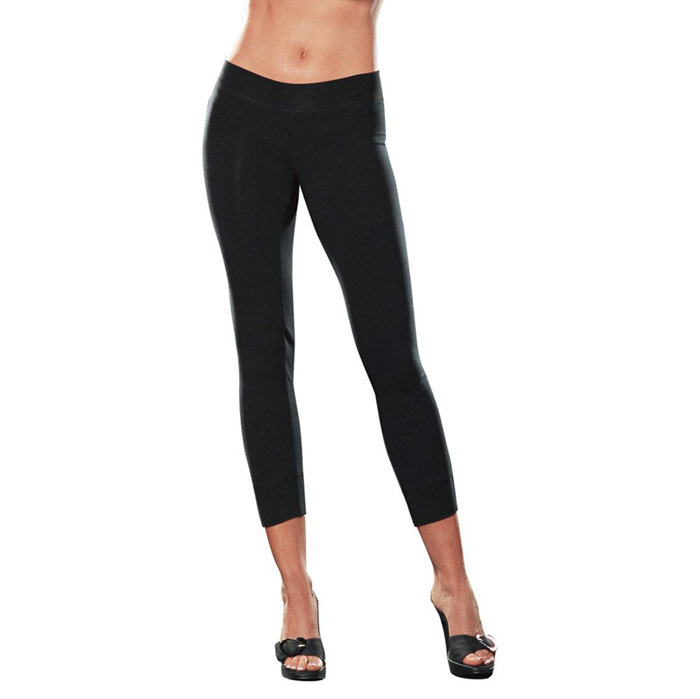 Rules of wearing leggings
Do not wear too tight or loose leggings. Leggings should cover the legs tight enough, but not expose each dimple on your legs. Besides, they should not hang freely and get folded.
You can wear leather leggings, but then your constitution will get a large amount of unflattering criticism.
Leggings are not pants
You can safely leave the house wearing pants and a shirt, but you cannot do the same, wearing leggings. You will look naked and exhibiting too much to be seen, no matter how well you think you look.
Do not wear leggings with a long top or a jacket. Even if the shirt covers your buttocks, you'll still look as if you have left your house not dressed completely.
Wear leggings with a dress, a skirt or even shorts.
Do not wear leggings with inappropriate footwear. Leggings look great with knee-high boots, sandals, slippers, or even with short boots.
Leggings also look nice with ballet flats or moccasins, if the shoes fit the rest of your attire.
Make sure your leggings are of suitable length. Maybe, you used to look perfect in those black leggings a long time ago, but after repeated washing they are a few inches above the ankle. If this happens, put your leggings aside and wear them at home.
Jeggings
Do not confuse jeggings and leggings. Jeggings are denim leggings which are in between pants and leggings. These formfitting, sleek pants can refresh an ordinary outfit, and you can wear them as pants.
In any case, leggings should not be worn with a short top, while jeggings can be worn with a short shirt.
Make sure jeggings suit you. They are very tight and are not suitable for everyone.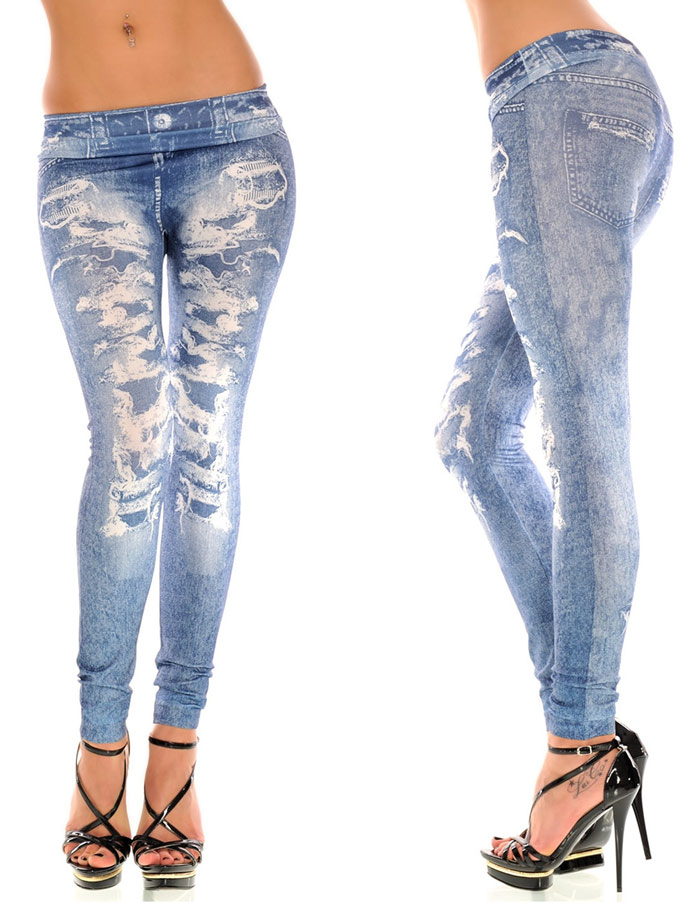 Wearing leggings to work
Make sure you are really allowed to wear leggings to work. Even very beautiful leggings may prove too much as an everyday article of clothing at work. Before you put on your new leggings to work, check your work dress code and make sure it is acceptable.
Wear leggings made of expensive material
There is nothing wrong if leggings are made ​​of cotton, but to work you should wear leggings made of suede, leather, or even dark denim. A wide choice of leggings will help you come and pick up the most fantastic outfits.
Do not forget about the rule not to wear leggings as pants. If you wear leather leggings with a shirt to work, you will look unprofessional.
If you are unable to abandon cotton leggings, wear black leggings at work.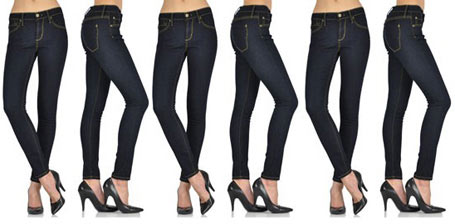 Avoid patterned leggings
At work, try to wear mostly black or at least plain leggings. If you wear patterned or lace leggings to work, it will look vulgar. You can wear such leggings when you are not at the office.
If your leggings have a tiny polka dot pattern against a dark background, which is almost invisible, these leggings can serve as an exception.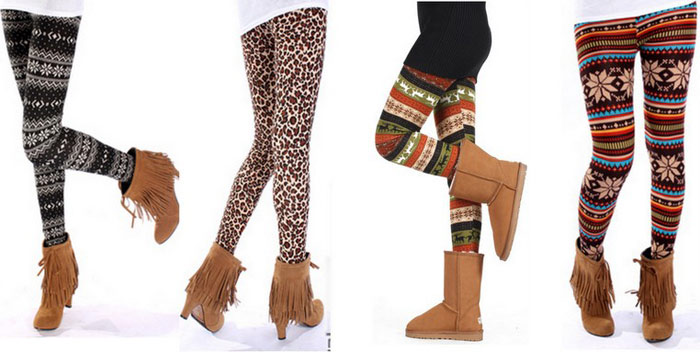 Pick a matching top to suit your leggings
If you have a beautiful top that matches with leggings in a good way, this outfit will look more suitable for the job. Here's how you can dress with leggings:
A jacket, a simple dress, and suitable cotton leggings.
A loose top and a skirt with solid color leggings. The skirt should not be much above the knee, not to look too provocative. The loose top should finalize the whole outfit.
Wear leggings with a long sweater
If you have a tight long sweater, you can wear it with leggings. Be sure to have a belt and suitable boots.
Wear the shoes that will complement your leggings
Sandals look great with leggings, but are not acceptable for most jobs. Avoid sandals at work, especially with leggings, since it will look too routine-like.
Combine leggings with low or high black boots.
Put them with closed-toe shoes and a small heel.
Do not wear leggings with shorts at work
It may look nice when you're out with friends, but it is not suitable for work, even if it is free style Friday.
Wear leggings with a cute dress
Put on a short spring or summer dress with cotton leggings, matching the color of the dress. The dress and leggings should not be of the same color, but they should be combined. For example, if a dress has five or six colors, the leggings should match at least one of them.
If your dress has a complex pattern, wear plain leggings.
Or do the opposite and pick up a one-color dress with patterned leggings and complete the outfit with a plain scarf.
Wear leggings with a skirt
Select the leggings that will match a skirt. Make sure the color and material of the skirt do not conflict with leggings. If you have a wide skirt, put on a tight shirt not to be wrapped in too much flowing fabric.
If your skirt is patterned, wear simple leggings. If the skirt is monochromatic, wear leggings with a pattern that will not mix with the skirt.
Select leggings to suit your shorts
This can create a very nice, casual look. Wear plain leggings with denim, black or white shorts. The shorts should not be too tight to blur with leggings.
This look can be completed with casual shoes without a heel: low boots, sandals, and sneakers.
Put this together with a long jacket and a tight sleeveless or a T-shirt.
Remember that you already have many layers if you wear leggings with shorts, so either add more layers, or stick to a simpler appearance. There is no golden midway here.
Wear leggings with a print
Leggings with a zebra or leopard print, striped and covered with other patterns can give the image of a cheerful and flashy appearance. You should wear them with a lower top, skirt, dress, pants and shoes. Focus on leggings and do not mix this look with other styles.
If you're wearing patterned leggings with a long top, add flashy decorations of the right color.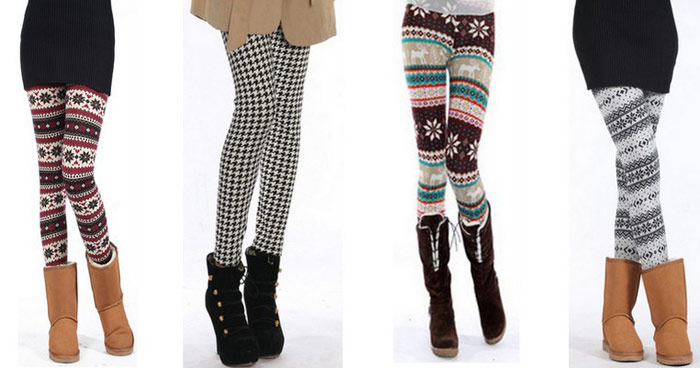 Tips to wear leggings
Do not wear bright colored underwear, even if you have long clothing. It can be seen through leggings, if they are made ​​of cotton.
Make sure your shirt covers the buttocks, especially if you wear leggings at work.
Make sure your favorite leggings are not gray and shabby. If so, just wear them around the house.