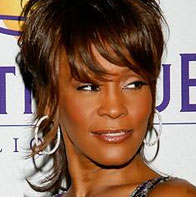 The Chicago Sun-Times newspaper claims that formerly married Whitney Houston and Bobby Brown seem to be on the road to reunion. The newspaper's source has recently seen them on a romantic date. The singer's friends also state that it is very likely that they will get back together. Whitney Houston's spokesman said: "Bobby and Whitney are divorced but maintain friendly relationship as their daughter's well-being comes first for both of them."
By the way, some rumors say that their daughter, the 15-year-old Bobbi Kristina, dreams about her parents becoming a couple again. Perhaps the two are willing to do this for their child's sake.
Bobby Brown and Whitney Houston met in 1989 and got married three years later. This marriage surprised many people, while others even blamed Bobby Brown for having a bad influence on Whitney. Indeed, by that time Bobby already had issues with the laws, he also had three children from three different women whom he did not pay alimony, while Whitney was a good girl from a religious family.
In 1993 Bobbi Kristina was born. But having a new member in his family did not bring noticeably positive impact on Bobby. Over and over again he was arrested for drunk driving, accused of sexual harassment, and even received another prison sentence in 1996. Some sources say that this was the year when Whitney started doing drugs. Brown was imprisoned for beating up his wife in 2003.
Patient Whitney Houston filed for divorce only in September 2006. The marriage was officially terminated in April 2007. Whitney received absolute custody over her daughter. Brown appealed to court for restoration of his custody rights and requested alimony payments from his wife. The court did not grant his claim.
Whitney tried to return into the show business after the divorce with the help of her longtime manager Clive Davis. So far, unfortunately, those attempts saw little success. Also the singer remains silent about her long-promised new album.
Photo of Whitney Houston: smh.com.au