Intimate nuptials that were performed at an ocean side church in La Jolla, CA, opened a new page in the partnership of The Wonder Years's star, Danica McKellar, aged 34, and a composer Mike Verta, aged 36, the couple who have had more than 7 years of dating.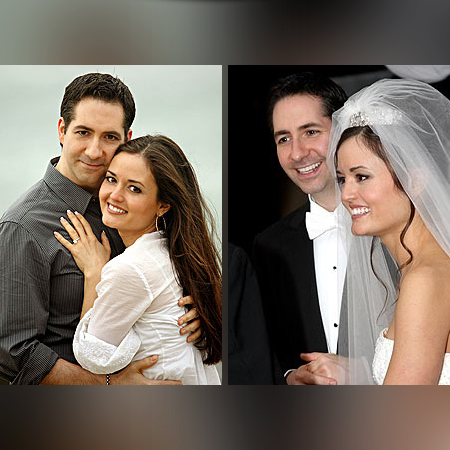 The newlyweds tied the knot in the ceremony that was attended by around a hundred and a half of family members and friends. This almost exactly fit the original plans, as McKellar did not want to dazzle everyone with a huge party. Danica's sister and The Wonder Years's Becky Slater, Crystal McKellar was chosen to become the bride's maid of honor.
A love song that the couple danced to at the black tie reception was composed by Verta. An impressive forming of a wedding cake with three tiers followed, as Danica and Mike sliced hot milk sponge cake with fresh fruit and devil's food.
The engagement took place last August in Chicago, where Verta's mother and grandmother live. Accompanied by Mike they came to the signing of McKellar's new book Kiss My Math, where he talked his future spouse against returning home. So her promotional tour was prolonged by the one-week stay at the Ritz Carlton where one night the proposal supported by a platinum and diamond ring made Danica burst with tears.
According to Danica, all her previous relationships ended up with silence between parting partners, bored of each other. Now the newlyweds boast of excellent and strong ties that are based on "mutual respect" and expect to have a truly happy family.
Source of the image: people.com.