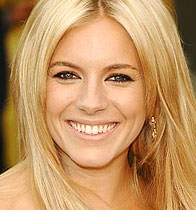 Somehow, the relationship between Sienna Miller and Balthazar Getty does not go smoothly. The actress' friends say that the couple is about to break up. Sienna went back to London so that they spend some time separately. Lately, the two were constantly arguing, mostly because of Balthazar's behaviour. He made a lot of promises to Sienna but yet fulfilled none of them and has not got any closer to divorcing from his current wife so far. Sienna fears that he may decide to go back to his family.
In fact, if Balthazar decides to get divorced it may turn out to be quite a costly step in his life. On the other hand, Sienna Miller is not a cheap affection either. The blond is not fond of the seven thousand dollar worth bike he gave her as a gift; furthermore, lately she has been eyeing some modern art (during the peak of financial crisis Sienna Miller is willing to spend impressive sum of money on art by famous British artists).
The question most people ask themselves those days is what will Balthazar choose – to keep a wife with four kids along with fairly large sum of money, or to stay with a girl who broke hearts of literally half of the British actors out there.
Photos of Sienna Miller and Balthazar Getty: timeinc.net, Daily Mail.