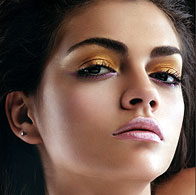 Looking at this fall's makeup hottest trends, I get the impression makeup artists opted for dazzling colors. Their focus is on golden shades that they apply to eyelids, cheek bones, decollete area, and even shoulders. Golden makeup looks great on anybody whatever a skin tone, or the color of hair and eyes. Golden eye shadows and rouges are very easy to smudge. It's also simple to remove them when you go over the top. Here is how you can use this color smartly.
Touch up in Eye Makeup
Touch up technique is the easiest and quickest way to do the eye makeup. Using your finger, apply golden shades to the outer corner of the eye.
Hit Eye Makeup Trend
One of the fall's hit trends is an outlined eyelid crease. It is so simple with the golden eye shadows on. First, powder your eyelids well. Then, apply eye shadows, or an eye liner, extending the line slightly farther the outer corner of the eye. Apply mascara to your eyelashes heavily.

Golden Smoky Eyes
Golden smoky eyes effect is also quite popular. Apply black liner to upper and lower lashes. Apply the darkest shade of your golden eye shadows and smudge well.

Golden Rouge
Golden rouges are great addition to this kind of makeup. Use the darkest shade for the lower cheekbone and highlight the upper cheekbone with the lightest one. When choosing golden-colored cosmetics, go for thick textures as they are easier to apply.
Lip Makeup
Doing this kind of makeup, it's very important to reach a balanced look. Golden shades are warm and they do not match cold tones such as pearl, pink, or wine color. Let your lips look kind of natural. The best idea is a translucent lip gloss or a balm.
Here's another way of creating golden smoky eyes. I think, it's worth trying, too.