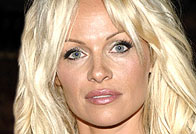 The former Baywatch star Pamela Anderson plans an intimate New Year's eve celebration with her ex-hubbie Tommy Lee. The star has two children from the rocker – 12 year-old Brendon and 10 year-old Dylan. Her official blog says: "We are spending new years together in Montreal. How romantic!"
Pamela Anderson moved to Tommy Lee's house earlier this year saying that due to the renovations in her house and other real estate transactions she found herself without a habitable housing for a family. She claims that they live together only on the grounds of her being homeless at the moment and said that they live a typical "old married couple's" life, i.e. without sex.
Let me remind you that the two celebrities got married in 1995 after going out for four days. Their marriage fell apart in 1998.
Photo of Pamela Anderson: theonion.com.