Jennifer Aniston – lately looming large as a romantic comedy star – is mostly in North Carolina working on her latest film, We Are the Millers, but the most important events in her life keep happening in New York. It was the city of her childhood and school days, and now it's also the site of her proposal of marriage!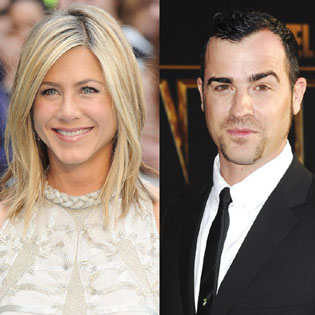 When the award-winning actress flew over to N.Y.C. to attend her boyfriend Justin Theroux's birthday, she had no inkling it would end with an engagement.
The celebration of the actor and screenwriter's 41st birthday was fixed for Friday night, and the main meal was set at the Blue Hill restaurant in Greenwich Village. Among the flurry of gift presenting Theroux came up with an engagement ring.
Getting the lowdown from an inside source, Life & Style magazine reports that the bling was a large beautiful affair with an emerald-cut diamond of 8 carats, a rectangular stone sided by tapered diamond baguettes.
Witnesses say Jennifer Aniston was overwhelmed by the romantic situation and had tears running down her cheeks.
New York Post's PageSix column approached the Blue Hill's representative who said they were "thrilled" over the engagement at their restaurant, but no information on the guests was vouchsafed.
Theroux's spokeswoman (a cousin to Louis Theroux, British documentary films director) confirmed the news during the weekend, saying that Justin Theroux had had the most marvelous gift for his birthday on Friday when his 15-month-long girlfriend Jennifer Aniston accepted his marriage proposal.
According to the source, the Friends star lost no time informing all her friends of her engagement; she was utterly happy and astounded at the big ring and the beauty of the diamond.
When Anniston came back to the set in Wilmington, North Carolina, late Sunday, many people noticed she looked exhilarated. The happy news of her engagement started to disseminate among the cast, but when the actress appeared in public on Monday she was keeping her ring finger concealed under a white towel.
The 43-year-old fiancée stepped out on Monday in a tightly fitting knee-length gray dress that made her look devastating and did honor to her suntanned legs. Having dropped by the hair and make-up trailer, she proceeded to the shooting site with a member of the crew at her side. She looked composed, but hid her face behind sunglasses and her long fringe and tried not to draw attention to her ring finger.
Although Theroux used to almost never leave her side, this time he was conspicuously absent.
Aniston's father John was heard to say that the two could "make a wonderful couple," and it is surely a good sign after a number of short-lived high-profile affairs Aniston indulged in after her divorce.