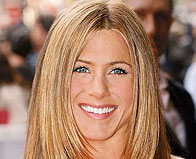 Next February Jennifer Aniston turns 40. She is successful and beautiful but still not married. No wonder she's in the media spotlight. Jennifer was disappointed on how Vogue Magazine interpreted her words. The story was followed by a high-profile scandal. Aniston decided to explain her point once again and gave the interview to British the Mirror Magazine.
Jennifer says: "Everybody goes through tough times,you've just got to figure out how to get through them." And then she goes on: "It's my history and my memory. I used to really take things personally. It took me some time to figure this out but if you can be truthful and honest with who you are, then you have a much easier time walking through life."
Since her divorce with Brad Pitt, she's been struggling to find somebody who might take his place. And millions of Jen fans watched her story unfolding. Jennifer and Vince Vaughn didn't have chemistry (they co-starred in a prophetic "The Break-Up" movie). Neither did she build the relationship with Paul Sculfor, British male model.
Now Jennifer is living in her $10 million worth house with six sad bedrooms. She is one of the most high-paying actresses but Jen says money can't buy anything.
"I don't wake up in the morning, and think 'Oh I'm wealthy'. I just know I'm extremely fortunate and I have the good fortune to take care of my family, to give to causes that matter to me and to contribute in ways not everybody can. I've never been someone to have money as my goal. I just wanted to work."
Jennifer shares her mansion with two pets: 13-years old Corgi nicknamed Norman and 2-years old Sheep Dog nicknamed Dolly: "I get my unconditional love from my dogs. And I get it from my girlfriends and a lot of other people, too."
Girlfriend's love is, of course, good, but a woman needs more. This April, Jennifer's friend Sheryl Crow introduced her to musician John Mayer, a known Hollywood womanizer. They seemed to be happy until Mayer put Jen on the dump list. Back then John said they were too different and he didn't want to waste his time on Jen.
They started dating again this fall. Jen was at Mayer's birthday and even introduced him to her father:
"He's a rare one. He is extraordinary and it is wonderful to watch him… the way his brain works and the way he thinks thoughts… it's beautiful."
It's interesting to see what will become of their relationship. Now they are trying to play the role of close friends.
Jennifer says she wants to have children and plans to devote herself to motherhood sooner or later. But now she's focused on her career because acting is what she really can do: "Courteney Cox and I have discussed it and it would be fun to get together again but I don't know if it will happen."
Age plays a significant role. Actresses in their forties who play in teenage TV series may look strange to critics. But Jennifer is not scary of her age: "I panicked when I was leaving my 20s and the 30s were a challenge, quite frankly," she says. "They were so full, from Friends to everything – that was a decade! Now I'm ready for the next one."
Photo of Jennifer Aniston: timeinc.net.