Cameron Diaz is not planning to tie her life with wedding vows, and yet she carefully watches that every single wedding bouquet lands in her hands. According to the well-known belief, the lady who catches a wedding bouquet will be next in line to get married.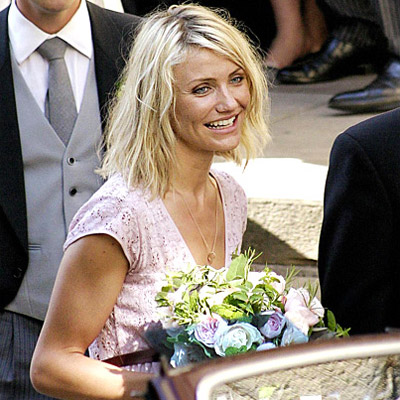 Interesting enough, Cameron's thirst for wedding bouquets is not caused by urgent desire to get a groom, but rather by a collector's excitement. The 36-year-old beauty admits that she is marriage phobic and does not want to get married, however she simply wants to get the wedding bouquet and even has a collection already.
By the way, Cameron says that she is not afraid to stop a relationship if it brings her hardship, because she knows that she will be fine even by herself. She recently broke up with Paul Sculfor commenting that people often find themselves caught up in a trap by things which they have already overgrown and thus they feel unhappy and yet do not know how to make the next move.
The life of Cameron, who used to date Jared Leto and Justin Timberlake, is not like that. The actress enjoys every single moment of her life and feels no rush or need to get married. Diaz also announced that she does not want children either. She noted that people may say that it is ridiculous and that in reality she does want a baby, but her answer to that is "no". Everything she brings into her own life now is not aimed toward having a baby.
Source of the images: .