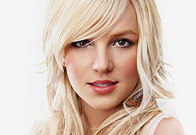 It seems that Britney Spears is fed up with making the same mistake of having love affairs with men who are no great shakes. This time, ex-wife of Kevin Federline decided to go for her own Prince and is dating with 44 years old billionaire George Maloof who is the owner of the Palms Hotels and a casino in Las Vegas.
Last weekend, Spears was seen in Mexico where she was kicking back with her new lover. Eyewitnesses claim the couple was necking in the open. Media says both George and Britney looked happy and easygoing. They just basked in their feelings and in hot Mexican sun. And Britney looked great. Her refreshed face showed no trace of horrible depression she had to experience.
By the way, the fact that Maloof is going to invest into Britney's career has already been confirmed. His millions would do the singer good as her father got control over her own funds.
Source of Britney Spears' photo: teenhollywood.com