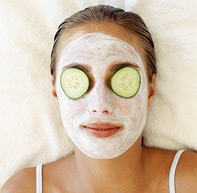 Often enough our lifestyle — daily routine, work, kids, and other circumstances – simply prevent us from spending enough time on ourselves. Yet, at the same time each woman would love to stay young and beautiful as long as possible. If we want to stay so longer, using high-quality cosmetics is not the only beauty rule out there; some other simple rules should be followed daily. Anyone can do it. So, your own youth and beauty are in your hands.
Beauty Rules in Summer. Sun
Do not forget to wear protective sunglasses; it will help you prevent wrinkles from popping up around the eyes. Protect your skin from sun rays as well. Tanning is surely in fashion those days, yet by no means it is a healthy procedure, if done too often and without skin and eye protection.
Beauty Rules at the Office. Coffee
Try to limit yourself in the amount you consume this "heavenly drink" – coffee. Do not stick to the "vigor drink" only, but remember about mineral water and green tea as well.
Beauty Rules at Work. Computer
Remember to keep your back straight. Proper back posture is very important if you want to have well toned skin on your neck. Also, don't forget about eye exercises to maintain good eye health.
Beauty Rules at Night. Cinema
Late night TV sessions – can you say a NO to this habit? Do not forget that we need at least 7 hours of sleep every night. Sleep is the time when skin cells regenerate.
Beauty Rules at Home. Cosmetics
Using the flagging strength just to creep to the pillow? No matter how tired you are by the evening, make sure you do your evening cosmetic procedures before sleep. Remember, you should clean and moisturize your skin before going to bed – at least one hour before, so that your skin has enough time to absorb the cosmetics, and the creams do not end up on the pillowcase.