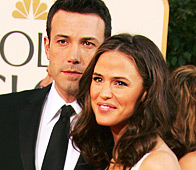 Countless women would love to be with Ben Affleck because he seems so special to them. But he is not a bit different from the rest men in one thing. Ben Affleck who became a father for the second time last month is eager to keep expanding his brood until he gets a son. His wife Jennifer Garner already gave birth to two kids, Seraphina Rose and Violet, and is not about to get pregnant again.
Nevertheless, Ben thinks he will coax his wife to change her mind. A source says that Ben is happy to keep going until he has a baby boy. The actor has big dreams of dressing his son into Red Sox gear, playing baseball with him and watching games in the stands together. But Jennifer told her friends that she's not going to have more children. The actress kids about her husband's plans, "If you want more babies, you'll have to find a way to produce them".
Source of the image: mtv.com.