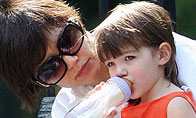 According to OK! and Star magazines, Hollywood is heading for new baby boom wave. This time, Katie Holmes and Jennifer Aniston joined other pregnant celebrity moms. If all imaginary pregnancies of both actresses were true, Katie and Jen would have more kids than Angelina Jolie.
In fact, Ok! didn't mean to say Katie Holmes is carrying a baby. A moving story goes about how Connor Cruise is dreaming of having a little brother. Connor is now having three sisters – Isabella, Suri and Sunday Rose. There is a little chance, OK! thinks, Nicole Kidman will want a second baby in the near future, so Connor puts his hopes on Katie.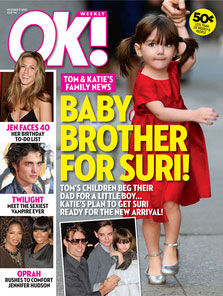 The headline Baby Brother for Suri was simply chosen to get more attention. If it was Baby Brother for Connor, I think it wouldn't make more sales.
It seems Star's hot topic is Jennifer Aniston. In its desperate attempts to unveil what could make such an extraordinary in all ways woman start dating with John Mayer again, the magazine held to one version – Jennifer is pregnant. What else could make her restore the relationship? The lattest Star's issue goes over the top. Jennifer and John are still dating? Well, she's definitely expecting twins!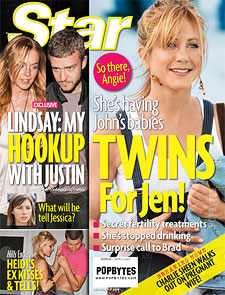 Star is also exploiting an old wedding theme. According to the magazine, Jennifer is going to marry John Mayer on the eve of her 40th birthday in February. She will be wearing a simple white gown and she will ask guests to arrive barefooted. (Fortunately, you can walk barefoot in Beverly Hills in winter without getting pneumonia). Wedding menu will include Mexican food.
It's funny that another tabloid National Enquirer was saying the same about the menu for Ashley Olsen's wedding ceremony. By the way, Ashley officially denied wedding rumors. She's now happily dating with Justin Bartha, but they have not been even engaged yet.
Photo of Katie Holmes and Suri: okmagazine.com.