The 23-year-old MTV's Jersey Shore castaway Angelina Pivarnick may soon appear in an unofficial hardcore porn episode based on the Jersey Shore plot – at least she has got a $50,000 incentive to do so!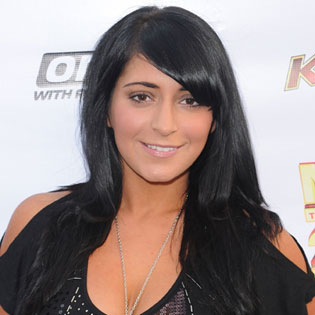 And that is only the beginning, her actual earnings – should she agree to go along with the proposition – will also include a share of the tape's profits.
RadarOnline has learned that Pivarnick, who was dropped at the end of the last JS series, is involved in a discussion of shooting a sexually charged JS XXX sequence with porn producer Vivid. A contract has been drawn and submitted for consideration that stipulates an advance sum of $50,000 out of her cut of the royalty profits.
The contract assigns the Artist 25% of the total Adjusted Gross Revenue, whereupon the former JS star is to submit to Vivid an hour of what the contract describes as "personalized sexy wrap-around" footage and two hours of sexual positions footage.
Rumors have it that Snooki's ex Jeff Miranda has a mind to act as Pivarnick's co-star in the movie, and a source tells RadarOnline that he has been in touch with Vivid, but so far there's no definite information about it.
Angelina herself has denied flatly that there is any possibility of her signing the contract and going ahead with the shooting.
The Staten Island girl was depicted in JS as one free with her sexual favors; on one episode Mike 'The Situation' Sorrentino compared her to the Staten Island ferry which everyone can get a ride on. Hints at her promiscuity recur throughout the series.
JS guys Pauly D and Vinny Guadagnino, Jeff Miranda and The Bachelorette's Justin Rego are known to be among Pivarnick's hook-ups.
Source of the image: Okmagazine.