If a watch for you is not a traditionally recognized timepiece but another accessory that adds color and arty charm to your outfit, you should check out the Dot Watch. This concept wrist watch is simple and ingenious at the same time that will surely appeal to those who opt for unusual designs and total divorce from olde worlde appearances.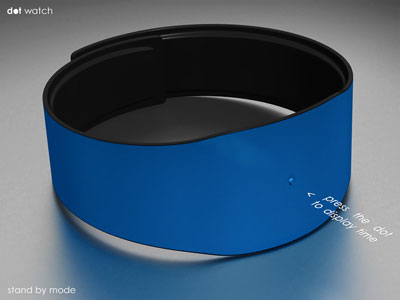 The Dot Watch presents a single strap that embraces your wrist comfortably. A PVC-based sheet runs over it; it can be stretched or removed. The final touch of this simplistic for-all-genders-alike design is one dot that stands out on the colorful background.
And what about the time, you wonder after you've taken in the general appearance of the gadget. Well, here comes another clever feature of the Dot Watch.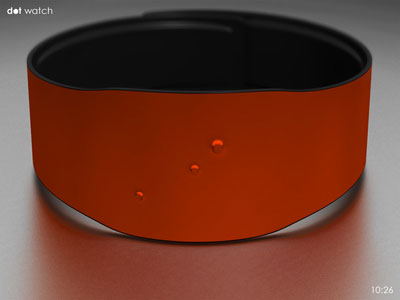 The central dot is actually the end of a cylinder that is pressed against the covering sheet from the inside. It is the main controller which must be pressed to make two other cylinders come up and become likewise visible. The one closer to the center makes the hour dot indicator, while the one further away shows the minute. After five seconds' service the time dots are drawn back again.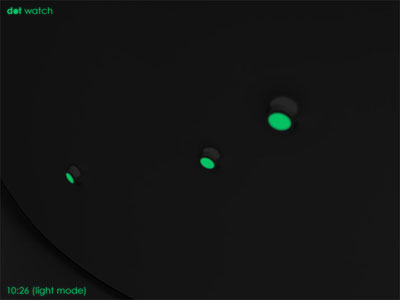 As the light fails, you'll have to press the main controlling dot twice to make the time dots light up. Press and hold the main dot for 10 seconds to get the watch into the settings mode.
Floating cylinders to tell the time sound like an alluring hark-back to the world of toys, don't they?
Source of the image: Tokyoflash.