Having given serious consideration to what should come next after the sweatpants with the company's name splashed straight across the hindquarters to keep their reputation up, Juicy Couture came up with an idea for a keyboard. Now if you have your keyboard made from silicone and rubber you will be able to carry it around easier rolled up and stuffed just anywhere. The thing is rightly called the Juicy Couture "Back to School" Flexi Keyboard.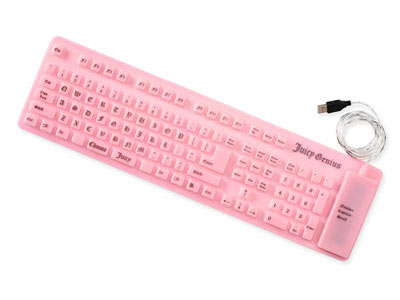 Of course every schoolgirl – and older girls too – are expected to jump at it because it is just the right bubblegum pink color, the deadliest attraction for anyone going trendy. And don't think twice about paying $45 for the thing – it may be a little expensive as far as keyboards go, but it's a genuine Juicy Couture product, compatible with both Mac and IBM and displaying the customary JC's Old English lettering.
Source of the image: popgadget.net.