The trend is visible to the naked eye: pastel shades dictate the fashion this year. At the end of 2021, the Pantone Color Institute named Very Perry, similar to lavender, as the main shade of 2022. They really nailed it: fashionistas choose this shade, and manufacturers of gadgets or household items add it to their lines. By the start of summer, the lilac color already had a viable competitor, which, in fact, had been among leaders for a long time. It was pink in its most gentle manifestation.

Buy an accessory
Start small – find out if you can make friends with the color without spending a lot of money. You can simply find a pink accessory.
It can be a bag (a leather baguette or a fabric shopper), a phone or tablet case, a belt, or something else (but it's better to choose from the categories you are familiar with).
The accessory does not have to be complemented with something of the same color in the image. You will quickly understand whether you are comfortable with this color, whether there is a desire to go to the store for something else.
Add neutral colors to pink
After a rather long era of neutral shades – first, total black images were in the trend, then beige and black returned again – it is psychologically difficult for many to add a new color to the images. Especially bright and noticeable.
You should not start with total looks. Add details to neutral shades: a barbie-colored top with a black suit, a pale pink T-shirt with gray trousers, or pink boat shoes (or sneakers) with a beige look.
Wear pink with jeans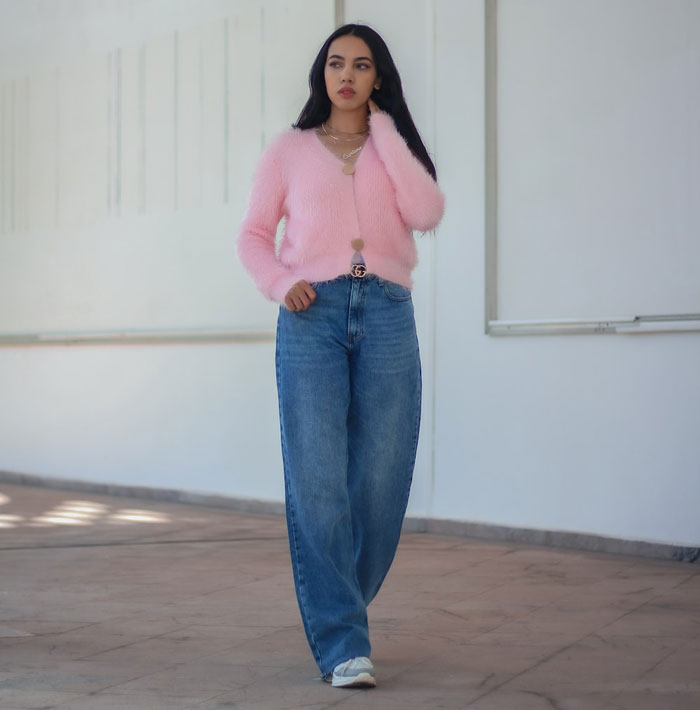 Everything works in pretty much the same way here, though jeans that are familiar to everyone act as a neutralizer.
It is better if they are in classic shades – dark-blue, blue, black or white/beige.
Follow bloggers
As we have said, pink has won universal love. Finding inspiration is not difficult at all – look at the photo of your favorite blogger or use the search engine on Pinterest.
But don't be inspired by the noughties
It's not worth following the trends from the noughties and – especially – the tenths, when the color was also very popular (unless, of course, you want to recall the style of that time intentionally).
Legally blonde, all sorts of Barbie wannabes, Paris Hilton and other stars of the time hardly look modern and stylish by today's standards. Although we love Elle Woods very much, we categorically do not recommend focusing on her when creating looks.