Going on full tilt to her 35th birthday this November 1st, our indefatigable Hello Kitty loses none of her stride, vigor and charm. Birthday gifts are to be had by all, and first ideas as to what we are going to be treated to are starting to leak out. It will be raining Mimobots!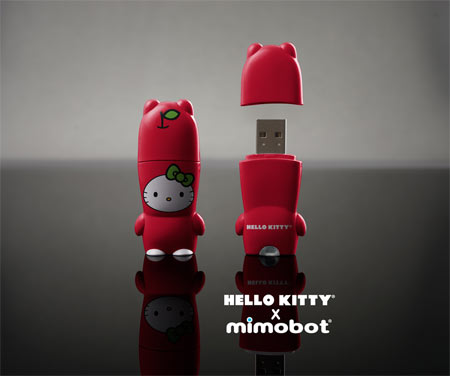 In preparation for the great event Sanrio, Hello Kitty parents, having done some creative thinking in co-operation with Mimoco, USB flash drive manufacturers, came up with the new Hello Kitty X Mimobot. The drives will come in different versions from 2GB up to 26GB and their appearance is sure to set eyes alight with delight, do wonders onto our spirits and convert new neophytes into admiring the Hello Kitty paraphernalia.
The line is expected to grace the stores early in September, the stores meaning SANRIO.com and MIMOBOT.com, the grandest of SANRIO boutiques and several other retailers. How much you will pay to become early owners of the new Hello Kitty joy is still classified information, but this small consideration is sure to be overshadowed by the fact that eager admirers will certainly be sweeping up the shelves and you may have to make a pretty quick dash to get one for yourself!
Source of the image: mimoco.com.