Thinking about those who have to talk to people all over the world and how they have to figure out the local time to place the call most conveniently, Gresso had a brainwave to design a new limited edition handset called the Luxor World Time allowing the owner to get the time in the greatest cities all over the world at a glance.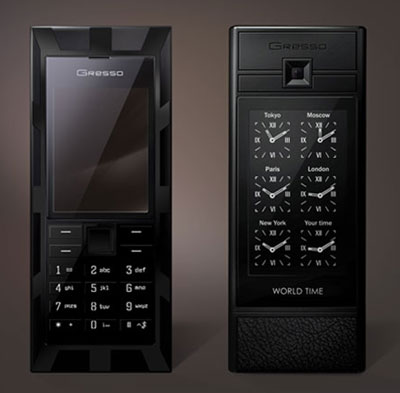 The glance should be directed at the back of the handset where six Swiss clocks are placed, showing the current time of the five most important business centers: New York, London, Tokyo, Paris and Moscow. The sixth timepiece is left to the owner to set the time for the place he or she requires.
The clockwork mechanisms are embedded in a durable case made from ceramic-coated light titanium alloy; the faces of the clocks are decorated with 97-carat sapphire crystals and the screens are gloss-coated. The clocks are powered for a 10-year continuous service.
The front panel of the new Gresso carries a steel PVD-coated bezel, and the back panel sports a patch of genuine Italian leather. The keys, as may well be expected, are also sapphire crystals that were given excellent manual polish.
Once you know the time at the place you're going to call, you begin to get interested in the phone's features. There are voice recorder and voice commands, an organizer and a built-in modem with Java support. You get your information displayed on a 240 x 320 pixel TFT screen.
Other features include FM radio, Bluetooth, a media player that reads the most frequently used formats, and a 2-megapixel camera.
Internal memory is hardly impressive with its 30MB capacity, but you can build up on it using 2GB microSD cards.
The Gresso Luxor World Time retails at $6,000 – unless you want a customized version that can be ordered at the Online Boutique and will be ready within a fortnight.
Source of the image: Gresso.