Samsung's announced collection of women-customized stylish and sophisticated handsets known as the Diva Collection 2010 will soon appear in the European stores. The first two handsets, Samsung Diva S7070 and Samsung Diva folder S5150, will be out late January.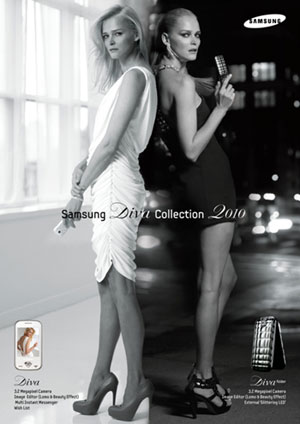 Samsung Diva S7070 handset is decorated with a pearly-white quilt pattern on the back.
The main button on the front presents an ergonomic crystal that resembles a diamond.
The functions include the pop-up Social Networking Service designed to keep you up-to-date with your friends' contributions to sites and blogs, the SOS Message, Fake Call, Wish List, and the Etiquette mode with provides instant silence mode.
Multiple accounts are supported allowing for multi-instant messaging.
The handset also features a built-in 3.2MP camera fitted with image editing tools named Beauty Effect and Lomo Effect.
Newcomer Two, Samsung Diva folder S5150, looks elegant with its silvery 3D quilted back. It shares most of the features with its gadget brother – you can make emergency and fake calls, make images and videos and edit them using Beauty Effect and Lomo Effect. A special feature is a hidden LED display that glitters up to life to inform you of an incoming call or message.
The exquisite advertisements for Samsung's new line display the Divaesque charms of the Estonian model Carmen Kass.
Source of the image: Ladiesgadgets.com.