Japanese engineers have recently created an unusual muscle stimulator – Eye Slack Haruka massager, designed to rid women of the wrinkles around the eyes. Or at least to make them less noticeable.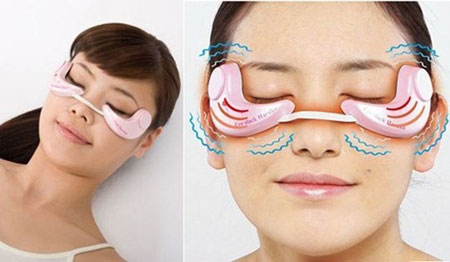 The operation of the device is based on electrical stimulation of the muscles around the eyes, and namely on the interaction of microcurrents produced when you use the tablet batteries, the deep layers of the dermis, and the tissues of the face. The procedure is aimed at improving blood circulation, muscle tone and overall skin condition, simultaneously preparing it for the active perception of creams, masks and other skincare products.
The original electrical stimulator is designed for women aged 25-27 years, who have already noticed the first wrinkles. Eye Slack Haruka supports two optional modes of operation: light, when tender microcurrents are barely perceptible and affect the surface layers of the skin, toning them; and the tougher one, when electrical stimulation penetrates the tissues. In the second case, the manufacturer also guarantees a pleasant vibration and penetration of warmth into the tissues. Of course, in case of a strong influence the effect manifests itself more quickly.
The electrical myostimulator can be easily used to get rid of the wrinkles around the eyes. What one needs is just to lie down on a sofa or a couch, place both parts of the device on the face and switch them on in the selected mode for only 3 minutes. The manufacturer predicts a significant effect produced by the gadget in a matter of two weeks if it is used for three minutes a day.
The electrical stimulator is made from hypoallergenic silicone, has the size of 17.5 x 6.5 x 2 cm, weighs only 30 grams, and is powered by two CR2032 batteries. The set includes two variants (4 pcs.) of special "gaskets", applied on the inside of the Eye Slack Haruka and ensuring the work in the selected mode.
The cost of the muscle stimulator is $132. It is up to the users to judge if the high price matches the produced effect.
Source of the image: Onegadget.